Maloulbinskoye reservoir
Kazakhstan Nature. Mountains and Waterfalls
20 km to the south of Ridder is the beautiful Maloulbinskoye reservoir, a part of the oldest hydroelectric complex in Kazakhstan, which was founded in 1938. It represents an engineering and technical historical monument.
The reservoir is located in a natural saddle between the following mountains: Zolotaya (2039 m), Left Gromotukha (2117 m), and Upper Ulba (2370 m) and is the source of the Malaya Ulba River to the east from the Prohodnoy Belok mountain range. The latter is known to have been used as Chinese trade routes during the 15th-16th centuries. Its precise elevation range is about 1612-2039 m. Nearly 90% of the described territory is covered by mountain tundra, with a total area of about 37 square km.
The average annual precipitation is 2000 mm, but in some years reaches 3800 mm. It is the dampest place not only in Kazakhstan but also in the Asian part of the Commonwealth of Independent States. The mountain tundra zone covers 90% of the area.
The reservoir was one of the main or even paramount elements in the structure of the hydroelectric power station of Leninogorsk Cascade, which includes the Maloulbinskoye and Tishinskoye reservoirs. Khariuzovskaya hydroelectric power station was the first in Kazakhstan and the second in the USSR (after the Volhovskaya HPS) first produced current in 1928. Ulba hydroelectric power station was the largest construction project at that time and produced current in 1937. It played an invaluable role during the war years as it supplied with the energy not only the Leninogorsk polymetallic industrial complex but also the Ust-Kamenogorsk metallurgical combine evacuated from Ukraine. Tishinskaya hydroelectric power station was launched in 1949 and the HPS "Rybny Klyuch" is located on the reservoir itself.
In some ways it is an open air museum. Some of the structures and machines have been preserved to this day. They include the steam shovel "Skoda" (4 such machines were used at hydroelectric power station's cascade building), diversion channel, HPS building, and dams. In the surroundings are the wooden barracks of Stalin's camps, where prisoners were kept and used in the building of Maloulbinskoye reservoir.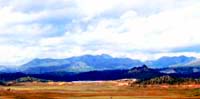 The place is very popular travelers. Hundreds or even thousands people from many countries visit it annually. Many trails run along the banks where groups of raftsmen begin their floats down the Upper Maly and Bolshoy Turgusun rivers.
The surroundings of the reservoir are rather picturesque and most of the transit stops are organized by the groups on its banks. The ruins of Stalin's camps are rather popular, as the prisoners who built the dams lived here. This severe place is visited by travelers in summer and skiers in winter who ascend here from the West through Prokhodnoy Belok. Unfortunately, it must be noted that the sites of traditional rest stops have trash left by some groups.