Kapshagai Reservoir
Kazakhstan rivers and lakes. The Biggest rivers in Kazakhstan

The Kapshagai reservoir is one of the largest lakes in Kazakhstan, as its length is 100 km and width - 25 km. Today it is the most visited place in Almaty Oblast for summer recreation, where one can swim and soak up the sun on the beach.
The northern shore is the most developed, and many resorts and boarding houses are located there. Yermin and the Golden Sand are the most prestigious among them.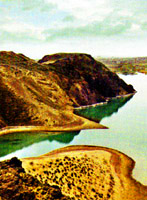 Most of the guesthouses are part of a combined coastal complex, which is usually considered a resort town. It is located 100km to the north of Almaty. It is necessary to travel to Kapshagai (70km), pass the dam, drive 30km along the Taldykorgan highway and turn to the right of the bridge. There is a private tollgate on the beachfront entrance.
Almost all resort areas have developed services in this region (motor launches, boats, water-skis and yachts). Shops, cafes and kiosks abound. Many tourist firms have their own resorts on the Kapshagai reservoir and organize trips there including full board and lodging.
It is very hot during summer there, sometimes up to +40°C. Therefore, it is necessary to take a hat and sunglasses. Also, try to keep out of the direct sun. The water temperature is + 18°C +20°C from May to June, +22°C to +28°C in July - August and +18°C to +20°C in September.
Fishing is possible far from popular beaches. However, you can have a good time in Kapshagai city itself. First and foremost, this is due to the largest aqua-park in the country; constructed by an Italian firm in 1994. This complex includes some themed pools ("Child run" and "Lagoon", a basin with a 10 meter diving tower) and many water attractions for children and adults.
The most prominent of them is the "Mountain" (20 m), from the top of which water flows down four sides along fast slides at 9Okm/hour.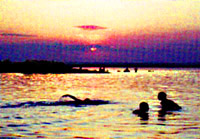 Crowds of spectators enjoy watching the brave people sliding down into the reservoir. It is important not to stand or slide face-first, for safety.
The Aqua-park is an ideal place for family vacations.
One can get to the Kapshagai city area from the Central and Sayakhat bus stations.
The tanned girls, beachfront volleyball and a jet ski race quickly make one forget the stresses of big city life. It is important not to swim too far from the shore.