Kaindy Lake
Kazakhstan rivers and lakes. The Biggest rivers in Kazakhstan

Kaindy Lake is set in a forest of conifers 2,000m above sea level. The lake was created as the result of an enormous limestone landslide. The embankment partitioned the gorge with a natural dam. The 400m-long lake is almost 30m deep. There are fine views over the Saty Gorge, the Chilik river valley and the Kaindy gorge. The dried-out trunks of submerged fir trees rise above the surface of the water like the masts of a sunken ship.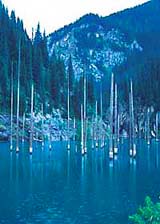 It is strange, but this uncommonly beautiful lake is almost unknown. Most likely, the nearby Kolsay Lakes distract travelers' attention. Nevertheless, Kaindy Lake gradually increases in popularity every year.
Kaindy Lake is very young, geologically. It was formed only last century, as a result of a land subsidence. Water flooded the resulting basin, forming a natural rocky gate in the middle of the lake. The flooded fir trees have not yet decayed, and their dry tops rise above the cold water. If you have swum far away from shore, you have the opportunity to climb one of the drowned firs and warm up in the sun.
This lake is located in the canyon to the east of the Kolsay Lakes. It is necessar y to drive up to Zhalanash, the Regional Center, to the east of Almaty (turn to the right off the Narynkol highway just before reaching the Charyn River).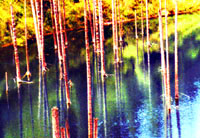 Then head from Zhalanash up to the Saty settlement in the west. This settlement is located 320km from Almaty. It is necessary to turn to the left on the dirt road one kilometer before the village, by a cemetery. This road brings you up to the lake, but only vehicles with greater power can make it. The lake is located in forested country.
Arrangements for multi-1-day Tours on Kaindy Lake are possible, the programs of which include the Scythian baths on the lake shore.