Irtysh River
Kazakhstan rivers and lakes. The Biggest rivers in Kazakhstan
The Black Irtysh river flows into Zaisan lake in the east, after emerging from China. The river flows through exotic desert landscapes. Its right bank is steep and sharp, while the left is gently sloping with sandy beaches.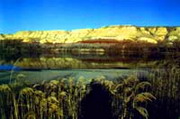 The river's flood plains are overgrown with forests, consisting of great poplar trees and shrubs. It's a kingdom of boars, roe-deer and pheasants. The river is notable for excellent fishing, as the average weight of pike in the river amounts to 12-15 kg. Zander and perch are also available to fish.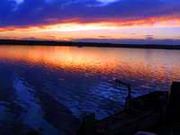 Near the Chinese border one can observe a splendid geological nature memorial - Ashutas (translation from Kazakh - bitter, salt stone), composed of bright clays of intricate shapes.
We move northwards to the spurs of the Southern Altai. Again we drive on the asphalted road which leads us to the high Altai Mountains. It is the habitat of a very rare and endangered species - Altai mountain sheep - argali (Ovis ammon ammon Linnaeus, 1758), which is included in the Red Book of International Union for Conservation of Nature and Natural Resources (IUCN).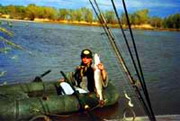 This is the only natural habitat of argali in Kazakhstan, represented by mountain steppe landscapes. Westwards from the road, down in a canyon, a wild mountain river flows - the Kaldzhir, in which taimen, umber, Siberian tench, and uskuchare are found - an excellent trophy for sport fishermen.
Ferry crossing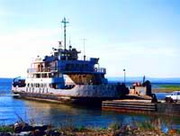 It is located practically on the territory of Kaluzhdun reserve.
The breadth of the ferry crossing at this spot is about 5 km. In the south - the Narymskiy range of the Southern Altai towers. During the ferry crossing, one can observe a picturesque view. Ferry crossing duration is half an hour.
The ferry is safe. It varies the trip and makes the route less tiring and more diverse.