Bayan-Aul State National Park
Kazakhstan National Parks. Kazakhstan recreation zones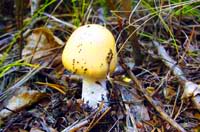 Pavlodar Region is famous for its magnificent Bayan-Aul National Natural Park - one of the most picturesque places in the country.
The SNNP (State National Nature Park) "Bayan-Aul" was formed in 1985 to preserve and restore the flora and fauna of the Bayan-Aul mountain range. The SNNP "Bayan-Aul" is situated in Pavlodar region and covers 50,000 hectares.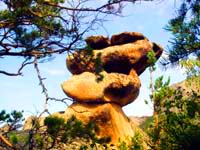 Bayan-Aul is located within the Kazakh mounds (Bayan-Aul mountains), which formed as a large mountain range during the early Paleozoic, and has a long history of continental destruction; these days its height is rather modest (400-1027 meters above sea level).
There are three large fresh water lakes in the Bayan-Aul territory - Sabyndykol, Zhasybai and Toraigyr. Besides these, there are several smaller lakes, which in the dry season grow shallow (Kochet lake and other).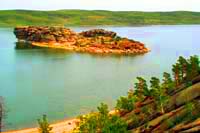 The depth of Sabyndykol Lake is 10-13 m, and Zhasybai Lake - 7 m. The lakes' coasts are very picturesque.
The Bayan-Aul Mountains are situated in the center of the Central Asian continent, which is why they have a continental climate *. The average annual temperature is 32C, in January -13.7 C, minimum -17.8 C. The average temperature in July is 14.6 C, maximum - 32.6 C. The average period with above freezing weather is only 140 days. The average annual wind speed in Bayan-Aul is 2.9 m/sec.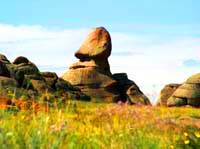 Floral variety in Bayan-Aul national park is represented by about 460 types.
This National Park represents four kinds of vegetation - forest, forest-steppe, steppe and meadow. In the southwestern parts of Pavlodar, on the right bank of the Irtish, is a unique spot on our planet - a natural site called the Goose Migration.
Palaeontologists found the remains of giraffe, rhinoceros, hyena like animals and hipparirion (a small horse), who lived here 7-10 million years ago.
The total number of fossils found is considerable. They, it would seem, belong to thousands of species.