Kokshetau State National Nature Park
Kazakhstan nature reserves. Kazakhstan recreation zones
Welcome to the hospitable land of Kokshetau!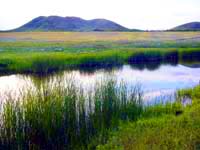 Beautiful landscapes
Kokshetau State National Nature Park
Traditional villages
Community based eco-tourism
Accommodation and food services
Horseback and hiking routes
Kokshetau.
This destination is located in the north of Akmola Region, containing the mountainous forests of Zerenda, Shalkar, Imantau and Airtau natural zones and the lakes of Zerenda, Shalkar, Imantau and Saumalkol.
60% of the region is covered by forests, with steppes interspersed among them. Most of the lakes are fresh water, and only Shalkar is famous for its bitter salty water. Shalkar Lake is a beloved place for Russian citizens who come here on holidays.
Forests are rich with berries and mushrooms. The forests and lakes of the region are protected as a part of Kokshetau National Park.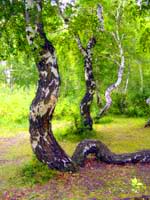 The wildlife is very rich and varied. Forests are inhabited by elk, deer, wild boar, wolves and many other species of animals. Lakes are rich in fish species.
Kokshetau State National Nature Park was established in April, 1996 by Kazakhstan government decree. Its main area, 60 km southwest of Kokshetau, is more than 135,000 hectares and includes the mountainous forests and lakes of Zerenda, Shalkar and Imantau natural zones. The territory is under a special protection regime which mitigates damage to natural and cultural sites.
Wildlife in Kokshetau is a rare combination of species from different epochs and geographical regions. Ancient lichens and ferns grow underneath trees and bushes.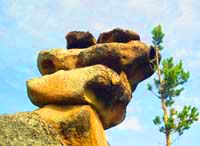 Typical Siberian taiga animals such as elk, lynx, forest marten, white hare, and ermine live close to the inhabitants of southern steppes and semi-desert, such as korsak fox, gopher, grey hare, and steppe polecat. The varied wildlifehas always attracted people to this region.
National Park Entrance fee is 1.3 Euro (in 2006).
Cultural heritage
Visit the historical and natural monuments of Kokshetau!
From Kokshetau, take a trip to the museum of Shokan Ualikhanov, memorial complex of "Karasai batyr", ancient Karsak burial, or archeological monument of Botai.
History is being revived here in handicraft shops. Here you can buy memorable souvenirs.
Community Based Ecotourism (CBE)
Community based ecotourism (CBE) in Kokshetau was first organized in 2005.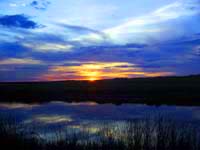 CBT groups are interest groups of local rural communities living in beautiful nature, who provide quality, inexpensive tourist services to visitors.
They are headed by a regional coordinator.
CBT groups serve travelers, providing unique local products. They have good local knowledge and skills to provide quality tour services to visitors and travelers.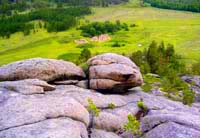 Accommodation services in traditional rural areas
Airtau, Imantau, and Shalkarlocated near lakes with the same names and surrounded by beautiful landscapes, are the best starting point for traveling in the region.
Comfortable guesthouses are always ready to welcome you with warm hospitality. Staying in guesthouses or in yurts, you can observe local life and traditions.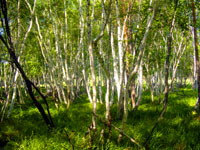 You can taste Kazakh food cooked from fresh local ingredients; listen to the sounds of traditional music on the dombra; taste fresh kumys (fermented mare's milk); relax in a traditional banya or just enjoy the traditionally slow-paced rural life.
A trip to Kokshetau makes for an interesting and healthy weekend.
Horseback and hiking routes
Horseback riding here is a wonderful opportunity to visit varied landscapes, crystal clean lakes and come close to the nature among placid pine forests. You can rent horses from local people, or go for a trip with a trained local CBE guide.
Trekking of different categories of difficulty, with professional guides is also offered. You may also rent equipment, including tents and cooking stove.