Karkaralinsky National Park
Nature of Kazakhstan. National Parks. Kazakhstan recreation zones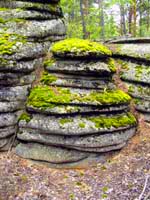 The name of Karkaraly originates from the national Kazakh women's hat - karkary - artfully covered with beads, lace, silk, velvet and owl feathers. And like this bright Karkara, the Karkaralinsky Mountains shine with all the colors of the rainbow. Its highest point is the three-faced Komsomol Peak (1,403m) and the surrounding hills rise to 400-500m.
The reserve covers about 1,000 sq .km. of pine and birch forests, and various types of grass. The names of the cliffs, mountains, valleys, lakes, rivers truly reflect their beauty: Eagle Summit, Dear Mountain, Red Bird Hill, Red Mountain Cliff, Mirror Deep Lake, Plough Lake and Devil's Lake.
Karkaralinsk, the pearl of the Saryarka, is located to the east of Karaganda. The untouched beauty of the Karkaralinsk Mountains and forests, gorgeous vegetation of its valleys and pristine lakes will remain in the memory of every visitor.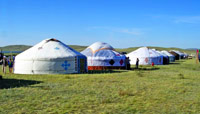 Small town life and breathtaking nature:
Karkaraly is a charming small town of wooden houses and narrow streets. People are keen to welcome you to their homes to share their way of life, and their delicious home cooked (and often home grown) food.
There are cafes and shops where rural Kazakh life can be appreciated. Try out your Kazakh language skills.
Walk in the mountains, which are not too steep and suitable for most abilities. Search for the elusive Devil's Lake, well hidden among the intriguing rock formations. In the mountains, find evidence of the region's early settlers, who lived there at the beginning of the first millennium BC.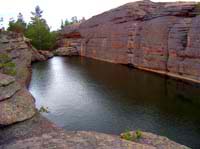 Six tourist routes cross the National Park, featuring traditional Shamanistic prayer trees: three walks, one horse route, one ski route and one cycling route.
There are many legends about Devil's Lake. One of them tells how the beautiful Sulushsash ran from her village to the Karkaraly Mountains, met a tiger and threw herself into the lake to avoid the ferocious predator.
Another legend says that when humanity was not yet created the devil settled down in the Karkaraly Mountains. One day a tiger attacked him and he threw himself into the lake and drowned.
Karasor (Tyzdigul) Lake covers 250 sq. km. and has plenty of fish. Its water is more salty than seawater. It has sandy shores and about 10 little rivers flowing into it.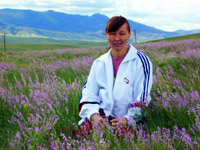 Just relax and enjoy the peaceful and warm welcome of Central Kazakhstan.
Karkaraly can be reached by train from Almaty (1 day/night) or Nur-Sultan (four hours). A 3 hour taxi journey will take you from Karaganda to the village, an adventure in itself, driving through miles of empty steppe with hardly another vehicle, person or sign of life in view.
Community Based Ecotourism.
By choosing this destination or any other offered by the Ecotourism Information Resource Center you will be playing an important part in supporting these special places.
What makes these trips different is that all the services are operated by and benefit local people.
You will have the pleasure of meeting the people who call these beautiful places 'home', and the satisfaction of knowing that the money you spend is staying in the area - providing much-needed income to the families you meet and protecting the environment you explore
Contact Details: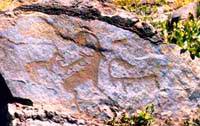 Ecotourism Information Resource Center
Republic of Kazakhstan
050091, Almaty
71 Zheltoksan Str.
Phone/Fax: +7 /3272/ 79 81 46
e-mail: ecotourism.kz@mail.kz
http://www.ecotourism.kz
Or contact the coordinator +7 /32146/ 31387