Mount Belukha
Kazakhstan Mountains and Waterfalls. Kazakhstan mountainous areas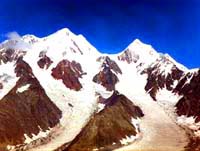 Belukha Mountain is in the northeast, with a snow-capped peak (4,506 m), the highest in Siberia and the Altai. This is the kingdom of snow, ice, roaring avalanches and sparkling waterfalls. Its neighbor, Mount Berkutaul (Eagle's Nest), altitude 3,373 m, is the second popular peak in the Southern Altai.
This is the highest peak in the Altai and Siberia. Its height is 4,506 meters. The slopes of its two-headed summit are covered with eternal snow and glaciers with an area of about 70 square km.
The first explorers were struck by the beauty of these places and compared them with Switzerland. You may read on the first maps of the Altai such names as Severo-Chuiskie Alpy, and Katunskie Alpy. The fact that the word Altai translates from Mongolian as Golden Mountains is not without basis.
According to Buddhist beliefs it is the hub of the universe, and Christian Old Believers consider Belovodye to be a blessed land where a human can feel free and content.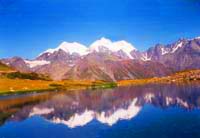 On the glaciers (with a total area of about 890 square km) of the Katun mountain range, many rivers originate and then divide into the two branches of the Katun River (in the Altai Republic) and the Irtysh (in Eastern Kazakhstan). Swiftly cascading down, mountain streams rush through alpine meadows, cedar taiga and strange rock formations.
Belukha represents, by itself, an interesting objective for Alpinismand mountaineering. At the same time, legends say that Belukha is the emblem of the Altai. It is located in a remote, difficult to access region which has almost no inhabitants. The distance from Rakhmanovskie Klyuchi is 35 km and can be covered on foot, by horse or by helicopter.
UNESCO has proposed the region of Altai mountains as an ecologically clean region of the world.
Geographical location. The highest summit of Altai mountains Belukha (Muztau) peak is situated in the eastern part of Katunskiy range. It stretches for more than 150 km from west to east and for more than 60 km from north to south. The mountain itself has two summits: Western Belukha (H-4440 m) and Eastern Belukha (H - 4506 m). North-western slopes of the mountain belong to East Kazakhstan region and South-eastern slopes belong to Altai region of Russia. Glaciers go down to the height of 2600 m. The following glaciers are on the north-western slopes of Belukha mountain:
Glacier name
Length
square
Morphological type
Height of firn line
The highest point of the glacier
Big Berelskyi
110,5 km
10,3 sq.km
Valley type
(Н-3120)
(Н-4506)
Small Berelskyi
8,3 km
8,9 sq.km
Valley type
(Н-2810)
(Н-3830)