Kock-Kol Waterfall
Kazakhstan Mountains and Waterfalls. Kazakhstan mountain districts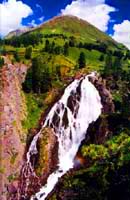 The Kock-kol waterfall, astonishing for its magical beauty and height, is the largest waterfall in Kazakhstan and the Altai. It is 60 meters high, formed by the mountain river Bolshoy Kock-kol.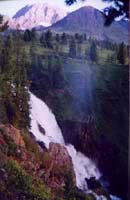 The 10 meter wide torrent rushes down a vertical wall with a deafening roar.
In the north-eastern region it represents one of the most attractive (along with the massif of Belukha mountain) tourist sites.
Besides their aesthetic value, the canyons of this sector may represent a practical opportunity for the establishment of tourist facilities, in that the climateof the river valleys with similar waterfalls, possesses healing properties.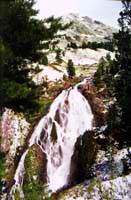 Millions of the scattering drops dampen the air and enrich it with aerosolized ions. The hydro air ionization effect is well known and successfully used in some regions of Russia, for example at Arshan resort in the Baikal region.
The waterfall is located in a remote place which has no permanent inhabitants. Above it, (on the river) there are remnants of a large village which existed during the Second World War. It was named Lower Camp and its settlers worked at the Kick-kol tungsten-molybdenum deposit, which is still being mined.
This place is very popular among travelers. Every year about 5-7 thousand people stop here for a few days, making treks to the Berelsky glacier, Upper Camp of the Kock-kol mine, and to the waterfall. According to accounts of the travelers there are Chinese writings and pictures on the rocks of the Kock-kol waterfall.
of OrexCA.com and KTA and KAGIR. Information has been taken from the "All about tourism in Kazakhstan".