Karatau Mountains
Kazakhstan Mountains Waterfalls and Peaks. Kazakhstan mountainous districts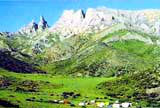 At Kazigurt foothills, near scenic rocks, from blowed sandstone, Nuch was believed to live with his children after flood. All three draw-wells is absolutely different taste of water. Near it medical establishment is built, because it is considered that draw-wells water help for many diseases.
On the southern slope of Kazigurt is a mysterious cross, made of stones. Its length is more than 100 m, but one may observe the cross only from the tops of neighboring hills. Scientists still haven't determined its origin.
The Karatau mountains themselves are one of the world's most interesting floral regions.It is a north-west spur of the Tien-Shan in Southern Kazakhstan.

It stretches to the Talas Alatau and, gradually lowering, turns into the Sarysu-Chu plain. Its length is 420km. It is divided into the Eastern or Malyi Karatau and South-Western Karatau. The highest peak is Bessaz. The Eastern Karatau has a moderately winding and peaked surface.
The South-Western Karatau is cut by valleys and divided into several massifs. The valley of the Syrdariya River is to the south-west of the Karatau, and the Talas River is to the north-east. The Karatau has a big influence on weather and climate conditions of nearby regions.
Average temperature in January is -10°C. The difference between average January temperatures on the north-east and south-west mountainsides of Karatau is -4-6°C, because of the influence of the warm mass of air from the south-western mountainsides.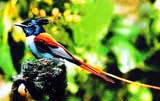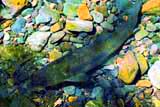 Average annual sum of atmospheric precipitation in the foothills is 200-400mm.
The quantity of atmospheric precipitation on the south-western mountainsides is 150-300mm more than on the north-eastern. The flora is mountainous-steppe. A rubber-bearing plant found here contains 35-40% of rubber. It grows nowhere else in the country besides Karatau. The steppe mouse, gopher, steppe polecat, badger, fox and others dwell here.
of OrexCA.com and KTA and KAGIR. Information has been taken from the CD "All about tourism in Kazakhstan".