Mramorniy Pass - Chinese border
Kazakhstan Mountains and Waterfalls. Kazakhstan mountain districts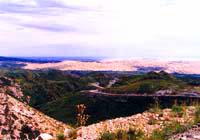 We are traveling northwards to the spurs of the Southern Altai. The road is paved, allowing us to drive comfortably at a speed of 40-60km/h.
The road. Again we drive on a paved road which leads us to the high Altai mountains. It is the habitat of a very rare and endangered species - the Altai mountain sheep (Ovis ammon ammon Linnaeus), which is included in the Red Book of the International Union for the Conservation of Nature and Natural Resources (IUCN). This is the only natural habitat of argali in Kazakhstan. Westwards from the road, in a canyon, a wild mountain river flows: the Kaldzhir, in which taimen, umber, Siberian tench, and askuch are found - excellent trophies for sport fishermen.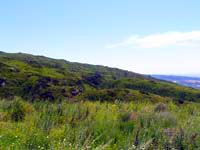 Driving to Mramorniy Pass, 110 km from Zaisan Lake, we must forget about enjoying relatively good roads for a long time.
After passing by the Terekty settlement, paved roads disappear. Here, the 11 kilometer climb to Mramorniy Pass begins (1399m).
A gravel road runs along the border separating China and Kazakhstan. A grand panorama of the endless sands of the Akkum desert in China opens from the top of the pass.
The pass area is the natural habitat of an endemic animal - Keller's Pyrethrum (Pyrethrum kelleri). Additionally, the following plants grow here: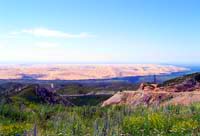 Galium krylowii, Zaisanee locoweed (Astragalus zaissanensis), Vereshagin's locoweed (A. veresczaginii), Bykov's meadow-rue (Thalictrum bikovii), Altai daphne (Daphne altaica), Goose onion (Gadea asutavica), spring asphodel (Adonis vernalis), Marmoreal onion (Allium marmoreum), Ledeburous almond (Amygdalus ledebouriana), peony intermediate (Paeonia intermedia), South Altai mat-grass (Stipa austroaltaica), etc.
Descending to the green valley of Akzhailau (White Pasture), we enter the alpine meadow and forest part of our tour. In spring and in early summer, the Akzhailau looks wonderful; a huge living carpet of blooming bright orange flowers called "zharki" (European globe-flower).
of OrexCA.com and KTA and KAGIR. Information has been taken from the "All about tourism in Kazakhstan".