Duration: 9 hours
Distance: 28 km
Tour departs: 09:00
Bus ride to the lake: 1,5 hours
Days: every weekend
Equipment: sports clothing and footwear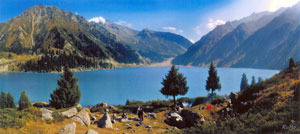 Tour description:
There are several picturesque lakes in the mountains of Zailiskiy Alatau. One of them is Bolshoe Almatinskoe (Big Almaty Lake). It is especially beautiful in the morning, when its blue surface mirrors the sky and surrounding mountains. Kazakh name of this lake is Zhasylkol, which means "Blue Lake". It is situated in the middle of canyon of the same name, on the altitude of 2511 meters. The depth of the lake is 35 meters, length is about 1 kilometer, width is up to 500 meters. In summer the water temperature is 10-12 degrees centigrade. From the lakeside opens fascinating view of the nearby peaks: Sovetov and Ozernaya - in the south, cliffy massif of Bolshoy Almatinskiy peak - in the west. The lake is used as natural reservoir storage.
The lake appeared as the result of glacier. When moving away the glacier left a moraine - a pile of stones, crushed stones and soil.
Excursion to Big Almaty Lake is interesting any time of the year. Even in winter, when its surface covered with ice and snow, it captivates with its spaciousness and mystery.
The way to the lake starts right after the microdistrict "Orbita". The road goes near fir-trees and mixed forests that capture with its fresh green in summer and beautiful colors in autumn.
On the way you will be given general information on Zailiskiy Alatau, Bolshaya Almatinskaya River (Big Almaty River) and the canyon itself. You'll see the severe beauty of the mountains, will get acquainted with the flora and fauna, learn the history of this region. You will also visit the station of cosmos communication "Orbita"; mud dam, which protects western part of the city from mudflow; cascade of hydroelectric power station.
We hope you like the program and assure you that we are absolutely open to any suggestions to increase the range of our services for the entire satisfaction of our clients and are happy to meet your special requirements.
You can alter the duration of your tour and places of visits by adding one of the extensions. Our tour operator will work closely with you or your travel agent to carefully prepare an itinerary based on your stated interests.
Photos
No tour photos have been posted yet.
Reviews
No tour reviews have been posted yet.