Ridder
A land of contrasts. Nature of Kazakhstan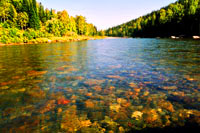 Set in the remote and spectacular Altai Mountains, close to the borders of Russia, Mongolia and China, Ridder is a mixture of adventure and relaxation.
Allow several days to visit, as, after strenuous hiking, the charm of the Rachmanov Springs will delight you in to wanting to linger longer (permits are needed, so plan in advance).
If you are still feeling energetic and adventurous, there are opportunities for white water rafting on the Belukha (which translates as White River).
If you are tired of walking, let a horse take your weight. The Altai is an undiscovered paradise, waiting to welcome you and wipe away the strain of city life.
This is a land of contrasts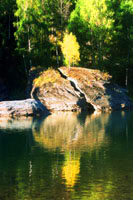 Away from the raging rivers, marvel at the vast forests. Particularly noted are cedar trees, try tasting the edible seeds.
Enjoy the meadows at the foot of the mountains, carpeted with flowers and herbs in Spring.
You can be sure of a warm welcome in the homestay accommodation that is organized for you.
Getting there
Ridder and the Altai are accessible from Ust-Kamenogorsk. It is advisable to get off the train at Jangiz Tobe and take a taxi from there. Otherwise you will cross into Russia, which could lead to complications.
Community Based Ecotourism
By choosing any of the destinations offered to you by the EIRC you will be playing an important part in supporting these special places.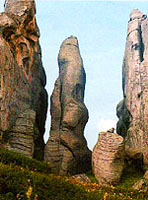 What makes these trips different is that all the services are operated by and benefit local people.
You will have the pleasure of meeting the people who call these beautiful places home, and the satisfaction of knowing that the money you spend is staying in the area and providing much-needed income to the families you meet and protecting the environment you explore.
Contact Details:
Ecotourism Information Resource Center
Republic of Kazakhstan
050091, Almaty
71 Zheltoksan St.
Phone/Fax: +7 (3272) 79 81 46
e-mail: ecotourism.kz@mail.kz,
web-site: http://www.ecotourism.kz