Maral Farm
A visit to a maral-breeding farm. Traditional occupation of Russian Old Believers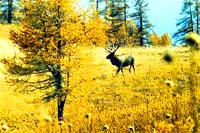 To the south of the Rakhmanovskie Klyuchi region there are several maral-breeding farms - so called maral nurseries. You may visit one of them!
A few hundred marals or noble deer are kept on a large wooded territory behind a high fence. The park for maral is located in a beautiful place with alpine meadows and islands of cedar, fur and larch forests which reach significant size here and there. There are many wild berries such as currant and honeysuckle.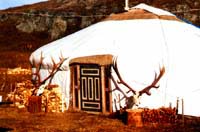 The domestic processing center where they cut marals' horns and polish them with special equipment is quite exotic and picturesque. The maral-raising business is a unique example of a traditional farm. It originated in the Altai Mountains in the 18th century, practiced by the first Christian Old Believers, who migrated here from Russia. This kind of production is very rare. The main product of maral-breeding is young marals' horns, consisting of a very useful substance - pantocrine. Pantocrine is a powerful bio-stimulant which has a beneficial effect on the body and provides strength and youth.
This quality of marals' horns has been known for a long time. In Southeast Asian countries it is used in many areas. A legends say that Genghis Khan's warriors cured their wounds in pantocrine baths in these places.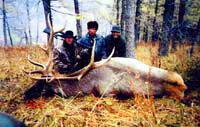 Maral breeding is interesting from several different points. In the cultural and intellectual sense it can be compared with an open Zoo where it is possible to take walking and riding tours on the territory of the park, watching the marals in their natural environment. In spring and early summer you can acquaint yourself with the process of cutting, polishing, and drying of marals' horns.
You have to agree that it is a rather exotic sight, especially the cutting when marals are driven into the pen and their young horns are cut manually, after which their blood is imbibed on the spot by the natives.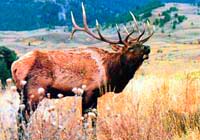 If you wish, there is an opportunity to take a bath made of a decoction of this horn. It is a well known way of invigoration and rejuvenation in the regions of southeast Asia. It should be noted that our president takes such baths to improve his health.
Thus, the combination of the ethno-program, kumiss therapy and pantocrine therapy mixed with excellent local honey and alpine meadow herb tinctures is the perfect program covering scientific, cultural, intellectual and medicinal issues.
As maral nurseries are situated in remote regions, they are usually visited only by the farmers themselves, which in some ways is a rather positive factor.