Blue Bay
Goluboy Zaliv. Kazakhstan Nature. Mountains and Waterfalls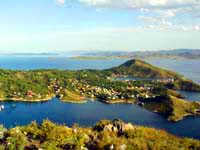 On our route, we negotiate a ferry crossing and view mountain-steppe landscapes interspersed with villages and fields. 240 km from the village of Korobiha we arrive at the Recreational Zone "Goluboy Zaliv". The road is of good quality with an optimal speed of 90 km/hour.
The Recreational Zone "Goluboy Zaliv" is 110 km from Ust-Kamenogorsk, near New Bukhtarma village. This zone stretches like coastal strips on both sides of Bukhtarminskoye Reservoir. The main part of it (80%) is on the right coast, including the "Goluboy Zaliv".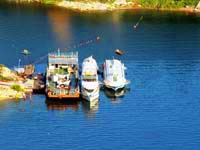 The combination of the warm "sea" air, filled with pine-tree scents and steppe herbs, complete lack of gnats (It is really a unique fact!), and comparatively easy access (2-2.5 hours by car from Ust-Kamenogorsk) makes this place extremely attractive for holidays, especially during the summer season.
The left coast of the reservoir is confined to the Karakol bay (recreation zone Ayuda).
The total area of the zone is 243.3 square km, with a land territory of about 30 square km.
The climate of this region is determined mainly by Bukhtarminskoye Reservoir, which softens summer daily temperature variations. The width of Bukhtarminskoye Reservoir in this place reaches 6 km.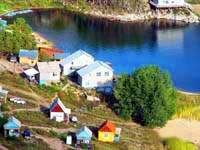 An asphalted highway connecting Ust-Kamenogorsk and Zyryanovsk leads to "Goluboy Zaliv". There are dozens of recreation camps, private countryside houses and summer cottages stretching along the shore for nearly 15 km.
Within the Zone are plenty of recreation areas and one holiday home called "Goluboy Zaliv". The newest belonged to the Machinery Engineering Ministry (Atomprom) and had a perfect, well thought-out (for the 60s) recreation infrastructure. It had great significance in Soviet times.
The recreation camps belong to numerous firms and private entities and it is rather difficult to list all of them.
The quality level of the buildings and services varies greatly depending on owner. Thus, there are both the most primitive one-room wooden houses and comfortable highly modern structures. However the latest ones have been built right on the coastline without taking sanitary and water-conservation standards into consideration.
During the summer period, no fewer than 100,000 people have their holidays in "Goluboy Zaliv", and the total number of people a day reaches 3,000-5,000. On weekends their number increases to 10,000 people.
At holiday-makers' service are water and beach attractions, small summer cafes and so on. The peak of tourism is from the middle of June till the middle of August, when the temperature of the water sometimes reaches 26-28oC.