Chimbulak resort in Kazakhstan, Almaty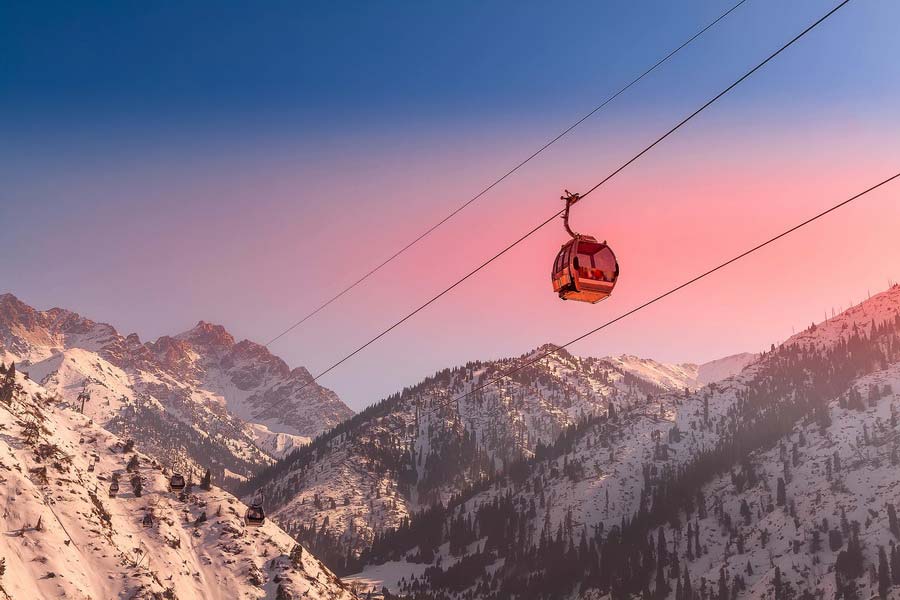 Kazakhstan resorts and recreation
Chimbulak ski resort is situated in an attractive gorge of the Zailii Alatau at a height of 2,260 m above sea level and 25 km from the city center. The average air temperature is +20°C in summer and -7°C in winter. The snow is on average 150cm thick in winter, with consistent snow cover from November to May. 90% of the days in the year are sunny. The slopes are served by three chairlifts and two tow ropes. The quad chairlift began operation in 2003, and opened a new region for extreme skiing, and for snowboarders there is a new Park. The chairlifts can take you from a height of 2260 m above sea level to the Talgar pass (3,163 m), for a vertical drop of 903 meters. The routes are continuously maintained by professional groomers.
Chairlift routes:
The 1st turn - to "Crossing" station, vertical drop - 400 m, length 1250 m (two chairlift rides). It takes 9 minutes.
The 2nd turn - from station "Crossing" to station "20th tower" - vertical drop 300 m, length 948 m (two chairlift rides). It takes 7.5 minutes.
The 3rd turn - from station "20th tower" to the station "Talgar pass" - vertical drop 250 m, length 860 m (one chairlift ride). It takes 8 minutes.
Quad lift - to station "Cone", vertical drop - 500 m, length 1730 m. It takes 14 minutes.
At the end of the 1940's, amateur skiiers discovered a remarkable place located in the Chimbulak tract, at a height of 2200 meters above sea level. A long natural mountainside ideal for downhill skiing, with various features in combination with a unique snowpack, providing for better carving and racing, has delighted generations. Later, the first downhill route in the country, complying with international standards, was opened.
Initially slalomists lived in Medeo. "Chimbulak" has been operating as a ski base since 1954. Ten comfortable cottages, a canteen and a club were located at the beginning of the tract. They were well equipped, had steam heating and electricity and were located near ski routes - this created maximum comfort for skiiers.
Beginning in 1950, Soviet skiing competitions were held here. Those who have tried skiing or at least observed the sportsmen's training, know well how much time and effort is spent by an athlete during a climb. Trailblazers had to climb for 3 hours, whereas a downhill run took only 15 minutes. Technical aids started to help the sportsmen to overcome climbing. It was decided to build a towrope - a special lift to bring skiers up to the top of the mountain. Soon on the mountainsides of Talgar Pass, where only mountain goats had wandered before, rocks thundered from the heavy tread of bulldozers, cutting a wide road higher than the clouds. Then tractors started working, moving 9-meter steel support masts. Constructors had to cope with many difficulties in the high mountains: frost, deep snow, and avalanches.
In March, 1954, a 1500 meter steel line of towrope way began operating, and opened the "Chimbulak age", as a place to train our leading skiers and conduct national championships. It was a monopolist of Soviet skiing activity until 1962. And five times afterwards, Chimbulak was chosen to conduct the USSR national championships.
Since 1961 the Kazakh Board for sport associations and organizations has conducted open competitions of mountain skiers for the "Silver edelweiss" prize. Winners in slalom, giant slalom and downhill skiing were awarded with medals with the image of a legendary flower, which became a symbol of courage and nobility, and a large medal was granted to the winner in the ski triathlon.
Since 1983 the "Chimbulak" base has operated as an Olympic center of downhill ski training. During this period a 4-story Chimbulak Hotel with 220 rooms, a sauna, medical center, and some new high speed lifts were built. Chair lift "Boarding House - 20th support" was put into operation in 1983. Its length is 2 km and vertical drop is 600 m. Each ropeway is managed by control panel, which is located in a small hut for an on-duty officer near the base station. In 1985, after scrutinizing the competitive conditions in Chimbulak, the International Skiing Federation approved 3 routes: "Chimbulak-Talgar" for downhill skiing, "Chimbulak" for giant slalom and "Chimbulak" for slalom. The downhill skiing route of Chimbulak is one of the best in the country. Experienced mountain skiers are aware of its peculiarities - steep turns and complex places, each of them has its own code name: "Skew", "Swing", "Camel", "Sunny", "Pipe", "Women's pit", and two "Canals". There have not been any competitions of regional importance held since the USSR collapse.
As "Chimbulak" has a comfortable material base and is close to high mountain areas with complex rocky and icy topography, it makes this region attractive for conducting high class skiing and snowboarding competitions.
In 1997 were put into operation two new chairlifts made in Austria. And currently the Championship of the Republic of Kazakhstan among teen-agers and the Championship of Kazakhstan among women and men are conducted here every year. In 2001 competitions for the prize of A. Artyomenko were performed for the first time, and it was decided to conduct them annually. Competitions on freestyle and snowboarding are planned to be conducted, and amateurs will also have their special competitions.
Seasons and weather
You will see several climatic zones during the passage from Almaty to Chimbulak. You will admire the snowy alps, gardens, forests, Tien Shan spruces, and crystal-clear water of the mountain Malaya Almatinka river.
The climate is wonderful here. Average monthly temperatures from November to March are between +5°C - 10°C. Humidity is not too high in winter; and air pressure is 610 - 630 millibars. Also, the high mountains protect Chimbulak from strong winds. Spring here comes later and autumn earlier than to the city. In summer, Chimbulak will save you from the stifling city heat, give you the coolness of Mountain Rivers, and fresh mountain air saturated with the odor of spruces. Winter is warmer here than in the city. The Chimbulak winter is blue sky, bright sun, and white snow. Chimbulak autumn is wonderful for its crimson hills. The number of sunny days per year is around two hundred.
In winter, the water temperature of nearby rivers, springing from glaciers, is not below +2°C, and in summer it is not above +8°C. The water is very soft and pure. Clear snow consisting of such water crystals makes for an excellent sliding surface and permits one to develop full speed. The natural conditions of this region favors the development all types of sport. Passing through canyons, you see sheer cliffs above the highway being climbed by alpinists, perfecting their skill. A variety of wooded paths attracts travelers from all over the world. Using the slopes of the mountain road, cyclists practice here in summer and mountain cyclists master uncountable new routes from early spring till autumn, testing themselves on the ascent and descent of steeps.