Medeo resort in Kazakhstan, Almaty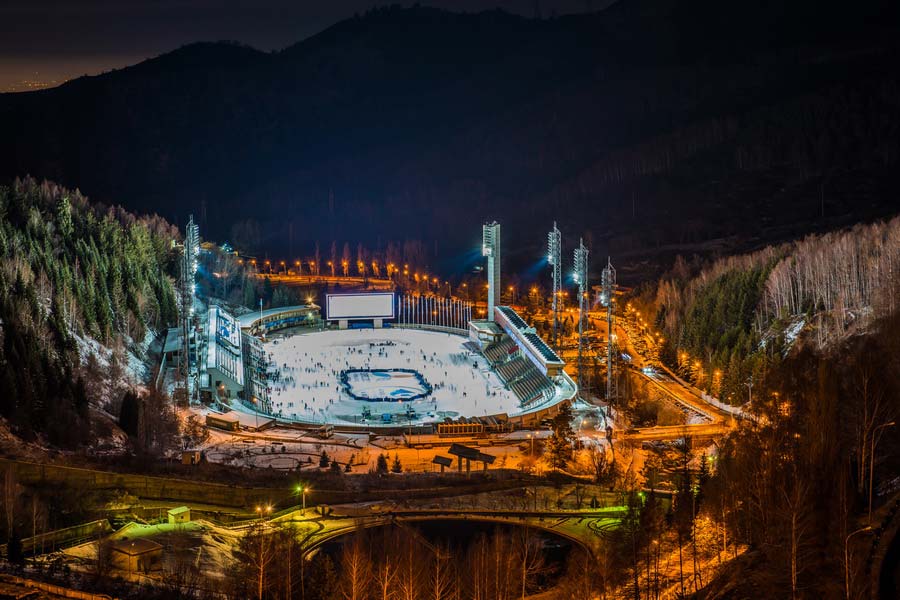 Kazakhstan resorts and recreation
Located 25 km from Almaty at a height of 1,733 meters above sea level, sits one of the most unique places in the world, the famous Medeo, located in the gorge of the same name. It is situated in the Zaliliski Alatau valley (1,520-1,750 m above sea level).
The skating rink was built in 1972. The skating rink itself is 2.3 meters thick and consists of over 20 different kinds of construction materials. Above it are reinforced concrete plates with 170 km of refrigeration pipes installed inside. The system of ice production has no analogue in the world and is capable of maintaining the ice surface eight months a year.
The surface of the ice field measures 10.5 thousand sq.m, where skaters, hockey-players and figure skaters can train. 112 world records in skating have been set at Medeo, and over 170 records in total have been established in speed skating here. Currently, the complex has been improved after an upgrade. The valley was named after Medeo, a nomad who lived in the previous century, who set up his aul in these magical places. The high mountain skating-rink is nice in any weather.
You can admire it from the lookout, 800 steps up a stairway or the winding road under the Mokhnatka (Shaggy) knoll slope that leads to it. It looks to be entirely covered with forests from the city (hence, the name). There was a monastic grotto here at the beginning of the previous century. Still today, pilgrims come to that place and improvise prayer services. Once a year the skating rink covers the ice, and the stadium turns into a huge concert pavilion. "The Asian Voice" ("Asia Da usv") a famous International Festival of music is held, in which not only young Kazakh singers perform, but Stars from around the world.
Residents and guests of the southern capital have at their disposal 5 stadiums, a hippodrome, and the high-altitude Medeo sport complex, featuring a unique ice skating-rink located 1,700m above sea level. This is where world records have been set many times by the world's top skaters. On weekends, Medeo is a popular skating spot for residents and guests of Almaty. Almaty Central Stadium accommodates 32,000 people. Nearby is a building for track and field athletes and a perfectly equipped winter swimming pool.
Medeo mudslide check dam
It was built to protect Almaty from the massive mudslides which commonly cascade from the slopes of the Western Tian-Shan Mountains. The dam has three height levels, each of which was built consecutively.
The reservoir can hold about 6 million cubic meters of water at once. 842 steps lead to the top of the dam, and races are held on these steps.
of OrexCA.com and KTA and KAGIR. Information has been taken from the "All about tourism in Kazakhstan"