Top 5 Things to Do in Almaty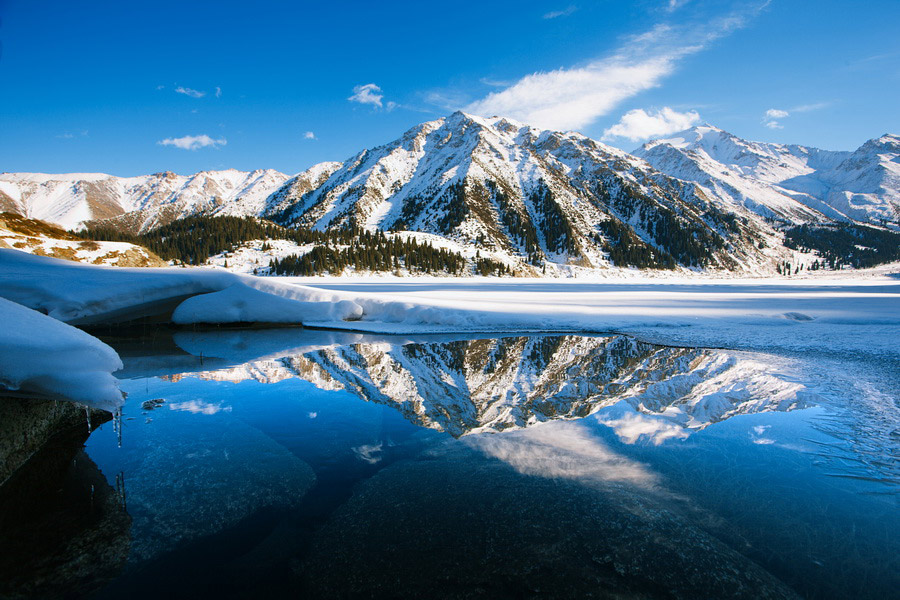 History, monuments and pictures of Almaty, Kazakhstan. Almaty map. Weather in Almaty city
Get high!
With only a few days in Almaty, you can see a lot. Start with the city's most famous attraction, the tram to Ak-Tyube hill and TV tower, leaving right from downtown. Grab a meal or beer and enjoy the view at one of the many restaurants and bars on top. Next, try Medeo, an Olympic-level skating rink, and the highest in the world, a 15 min. drive from the city. From there, get even higher at nearby Chimbulak ski resort, take the lift and enjoy an aerial view of the city (grab something warm though, as it takes you quite high (3,200m) and it gets very cold up there).
Take a 1-day trip
If you have spare day, head to the mountains to Big Almaty Lake and observatory, or Talgar gorge (trout farm, ostrich farm and nomadic burial sites where the famous Golden Man was discovered) If not in the mood for cold mountains, go in the opposite direction to Kapchagai Lake and the spectacular Ili River, with ancient Buddhist petroglyphs and a huge fort built for the movie "Nomad".
Shop!
Shopping addicts will love the Green Bazaar in the center of town, and especially the famous "Baraholka" (Chinese bazaar), which covers the area of a small town! As Baraholka is usually very crowded and not very safe, make sure you pay attention and watch your stuff carefully. Zangar shopping mall in downtown is ideal shopping for traditional souvenirs and crafts. Remember to use your haggling skills!
Go out
Going out in Almaty is great fun. If you like dancing, Da Freak and Admiral Nelson are probably the best, playing house, techno, and R&B. Crystal, Di Wang and Heaven are posh (and expensive) featuring foreign DJs. If you'd rather sit back and relax, the Cinzano, Stilnaya Sobaka lounge bars and Coffeedelia and Gloria Jean's coffee bars on weekends are the best. Live rock and pop bands are featured at Soho and Roxy, the former being a favorite foreigner hangout and quite expensive. In addition, many Western-style pubs and bars are popular, including Murphy's, Stetson, and Guinness.
Party with the locals
If you are in Almaty for some time and think you've "seen it all", try to meet some local friends as Almaty people are very imaginative when it comes to entertaining themselves! They'll take you to a cool new bar, to a bowling/ carting party, to friends' dachas (summer houses) for shashlyk or on a fishing/ rafting trip to the Ili River. One of the simplest and most enjoyable activities is hanging out and having a drink in beautiful Panfilov or Gorky (Central) park on a hot summer night.
Enjoy!
My bored Almaty friends once took me for lunch to Taldykorgan. Imagine my surprise when I realized that Taldykorgan was not a place to eat, but rather a town 2 hours' drive from Almaty! Lunch was amazing, cost us 3 times less than in Almaty and was quite an experience overall!
By Lola Askarova