Kartli
Georgia regions

Kartli is the heart of Georgia. The oldest royal city of Georgia, Mtskheta, is situated in the region. It was there that Georgians became Christians in the 4th century, through the activities of 13 Syrian monks and St. Nino, who worked miracles here. Mtskheta is popular for its original architectural monuments; Svetitskhoveli (11th century), built by architect Konstantine Arsakidze, is also the burial place of Kings Gorgasali and Erekle II, and is his masterpiece; during the 6th-8th centuries Jvari Cathedral was built on a nearby mountaintop, which for 14 centuries has overlooked the ancient city and is considered to be a masterpiece of Georgian religious architecture from the classical period. Mtskheta is a museum city, on the list of world sites of UNESCO, and is only a twenty minute drive from Tbilisi.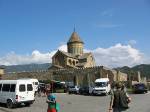 Gori is one of the main cities in present-day Kartli. It has existed since the late centuries BC, when a citadel guarded the city. Gori is known as the native city of Joseph Stalin, the famous 20th century Soviet dictator. Visitors can view his boyhood home there, and tour the museum in his honor. Some of the oldest historical monuments in Kartli include: Ananuri, built in the 16th-18th centuries, and Uplistsikhe, a city built into solid rock. In the 3rd-1st centuries BC, it was a typical Hellenistic town with a citadel, city and suburbs. It was a major political, cultural and religious center as well. Today, it is a museum city. One can turn from the ancient past to the ultra-modern atmosphere of Gudauri, in the Caucasian mountain range. Gudauri is a winter resort of international caliber, with exciting mountain ski runs and first class hotels. Fun in the sun and snow is available to skiing fanatics six months out of the year on the 3,000 m mountain.
In the ravine beyond the Caucasian mountain range, in one of the most breathtakingly beautiful surroundings, lies an especially historical province of Georgia, Kazbegi. In this charming alpine zone rises the majestic snowcapped mountain of Kazbegi (5,047 m). The legend goes that Prometheus was chained here by the Greek gods for stealing their knowledge.
We thank BVT Georgia for their kind informational support.