Kakheti
Georgia regions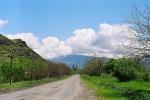 Kakheti is known as the region of the vine, and with good reason. Unique and award winning Georgian wines and brandies are produced here. It is also believed that the very first wines were made in Georgia thousands of years ago, and it is now acknowledged worldwide by scholars that Georgia is a cradle of wine producing. Kakheti is situated on the plains of the rivers Alazani and Iori and is surrounded by ridges of the Caucasian mountain range. The Kakhetians are hard-working people. When visiting the Kakheti region, at jovial and hospitable feast tables, you will hear delightful polyphonic Kakhetian songs. It should be mentioned that the song "Chakrulo" can be heard by creatures from alien planets, if they actually exist. This recorded song, along with other sound signals, was sent into space, to give alien civilizations an impression of life on our planet.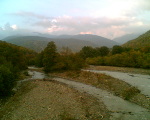 Kakheti is an ancient region rich in historical monuments. For example: a fortress city from the 4th century, Nekresi; the complex of caves at the David Gareji monastery (6th c.); the monastery city of Shuamta (6th-7th c.); and Alaverdi, built in the 11th century. Not to mention Ikalto monastery, where, in the 12th century, one of the world's oldest higher education institutions, the Ikalto Academy, was founded by King David Aghmashenebeli (the builder).
One of the most important towns of Kakheti is Telavi. It was founded in ancient times, and was mentioned by the Greek

geographer Claudius in the 2nd century B.C. There are many interesting museums here, and several medieval churches and three castles have been preserved in Telavi. In Kakheti exists a small, but stunningly beautiful town, Sighnaghi, with its peculiar architecture and spectacular views of the Caucasus range. You will be very impressed with the Rtveli, i.e. harvest, in Kakheti. It is a period of grape gathering and wine making. Farmers finish every season with feasts and merrymaking. All guests are welcomed with great respect during this period.
We thank BVT Georgia for their kind informational support.