Guria
Information about regions of Georgia

Guria is a Black Sea coastal province, famous for its inexorably witty people. The most typical subject of their discussions is certainly world politics. You shouldn't argue with them because you will almost certainly lose! Gurians are especially educated in politics. They know all about World affairs, and it is no accident that the former President of Georgia, Eduard Shevardnadze, a world-renowned political figure, is from Guria.
This small region of Georgia is rich both in politicians, and in polyphonic Gurian songs. The Gurian song, "Krimanchuli" is the highest pitch in the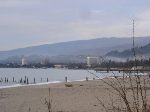 unique and complex polyphonic songs of Guria, which consistently dazzle and fascinate the world. Guria is plentiful in nuts, citrus fruit and tea. And, as is the case all over Georgia, guests are greeted with open arms and generous tables. Ureki, a famous Black Sea resort, is known for its medicinal magnetic sands for treating children's physical ailments.