Imereti
Georgia regions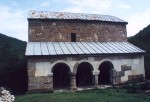 Imereti is a western Georgian region, where the witty and optimistic people, the Imeretians, live. Khachapuri (cheese pie), a staple of Georgian cuisine somewhat similar to an Italian pizza, is very tasty. Kutaisi is the principle and oldest city of Imereti. The second city of Georgia has been written of since the 6th century B.C. After Tbilisi was invaded by the Arabs, Kutaisi became the capital of a newly strong and united Georgia. Kutaisi citizens have maintained their ambitions (in the positive sense of the word) the since that time. Kutaisi was one of the greatest cultural centers of Georgia, and the Kutaisian sense of humor is universally recognized.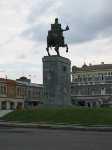 The most interesting monuments of Imereti are Bagrati Cathedral, built in 1005 during the reign of King Bagrat III, the king who united Georgia. Bagrati Cathedral is one of the most remarkable sights in Kutaisi. It is built near the walls of the old city's stone wall, called Ukimerioni.
There is also the Gelati Monastery, where, in the 12th century, the Gelati Academy was founded by King David Aghmashenebeli (the Builder). David Aghmashenebeli is buried in Gelati monastery, says a humble sign at its entrance, according to his will. Near Kutaisi, is Motsameta Monastery, which has witnesses various pages in the history of Georgia. Here, David and Konstantine Eristavi refused to adopt Islam, preferring to die as martyrs in 735-737 AD, during raids headed by the Arab commander, Murvan the Deaf. The cathedral of that period did not survive. The church of the Monastery was built in the late middle ages nearby. To the south of Kutaisi, lays Vani. During excavations, ruins were discovered of ancient cathedrals and palaces, and even a little treasure!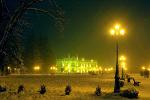 The population of Imereti is cheerful, industrious and creative. While driving to Imereti, at the village of Shrosha, you will see people along the motorway selling beautiful articles made of clay. This is one of the oldest and most popular handicrafts in Georgia.
We thank BVT Georgia for their kind informational support.