Bakuriani, Georgia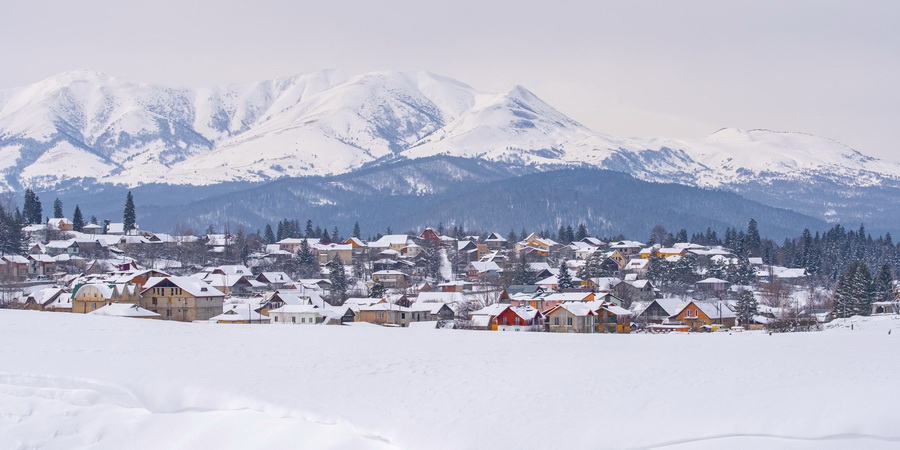 Geographical coordinates: 41°45′N 43°32′E
Translated from Georgian means: calm, cozy mountain
Elevation: 1 700 m
Official language: Georgian
Popular languages: russian and etc.
Population: 1 879 (2014), www.geostat.ge/en
Nationals: Georgians, Armenians, Ossetians, Russians, etc.
Time zone: UTC+4
Phone code: +995 367
Zip code: 1204
Automobile codes: non region specific
General Information
Bakuriani is a mountain resort situated on the northern slope of the Tianeti Range in southern Georgia's Samtskhe Javaketi Region. It lies 180 kilometers from Tbilisi at an elevation of 1700 meters (5576 feet) above sea level.
Fresh mountain air and predominantly coniferous forests make Bakuriani the ideal place for rest and recreation in summer, while in winter it transforms into an internationally recognized ski resort meeting full Olympic standards. Summers are long and temperate, with August temperatures averaging +15° Celsius. Winter in Bakuriani is frigid, with average January temperatures dipping to -7 and a median snow cover of 64 centimeters, which blankets the landscape continually for 4-5 months.
Historically, the first residents of Bakuriani were Ukrainians. In 1816, approximately 80 Ukrainian families who were settled here began to cut and sell local timber, which was largely exported to Germany to produce musical instruments. Throughout the 18th century, Ukrainians forced to flee their country were given homes in Bakuriani for resettlement.
The first skiers appeared on the scene in 1932. During the 1970s and '80s, Bakuriani was a key training base for the Soviet Union's nation Olympic alpine skiing teams, where the skills of many famous Soviet skiers were honed to perfection. During this critical period in Bakuriani's history, the resort's infrastructure continued to be developed.
Travel Tips
Tourists and locals alike enjoy traveling in the region by the famous Kukushka train, running from Borjomi to Bakuriani, a route which offers passengers beautiful mountain landscapes along the way. The name Kukushka (meaning cuckoo in Russian) was given to the train during Soviet times and is still used today. The bridge which connects Tsagveri (a small city in Borjomi Municipality in south-central Georgia) to Tsemi village on the Borjomi-Bakuriani railway line was designed by the French engineer Alexandre Gustave Eiffel by order of the Romanovs, the Russian royal family of his day. Construction pieces were brought to Georgia in pieces until the bridge was completed in 1902, and the first train completed its route that same year. The train and railway line, which have attained UNESCO Intangible Cultural Heritage status, have been renovated recently so that this classic railway experience now connects not only two cities, but modern reality with the Soviet past.
Ski season in Bakuriani starts at the end of December and continues until April. The resort offers 23 ski pistes with a total length of 29.1 kilometers. The slopes are equipped with artificial snowmaking machines, and slopes are divided according to their difficulty levels. Each year many international athletes come here to practice their skills, but Bakuriani is an equally attractive place for children and adult amateur skiers. The resort offers various ski lifts, night skiing, tobogganing, ice skating, snowmobile rentals and two children's parks, Didveli and JoyLand. Visitors can also enjoy horseback riding, a bike park and a cinema, not to mention cozy cafes and restaurants. Bakuriani is a truly ideal place to spend your winter vacation and gather unforgettable white memories.