All About Train Tickets
Train travel in Uzbekistan is one of the most convenient ways to travel between cities. Various high-speed, regular and night trains crisscross the country, connecting all the main cities with one another. They almost always leave and arrive on schedule and are rarely more than 5 minutes late.
Buying tickets for Uzbekistan train travel can present some difficulties, yet knowing the various rules, regulations and discounts offered can help to smooth the process. This page has been created to answer common questions on this topic.
Where and how can I buy a ticket?
There are three ways to buy train tickets for Uzbekistan, each of which is outlined below. It is important to remember that in most cases, tickets only go on sale 60 days before the date of departure.
Purchasing at a Ticket Office
The classic method of acquiring tickets will require you to travel to one of the in-country ticket offices of Uzbekistan Temir Yo'llari. You will need to confirm that the ticket office sells tickets for the train in question, provide the passports of each individual who will be traveling, and pay for the tickets upon receiving them. Payment is only accepted in Uzbek sum or with the local 'UzCard' credit card; foreign currency and international credit/debit cards will not be accepted.
Purchasing Online
Tickets for trains in Uzbekistan can be purchased on the Uzbekistan Temir Yo'llari company website. Upon entering the site, you must go through a simple registration process, indicate the city of departure and arrival and the departure date, and begin placing an order. To complete the order you must make your seat selection, enter your passport data and provide other basic information. Finally, you need to confirm the order and begin payment. (As of February 2020, payment was only possible with a local UzCard, but the company has plans to make ticket purchases possible with MasterCard and VISA in the near future).
There are some features you should be aware of when buying an e-ticket for Uzbekistan train travel. Fifteen minutes are given for placing an order from the time the process is begun, and if you run out of time the system will reset itself, forcing you to fill out the forms all over again. You can purchase tickets for up to 4 people at a time. After purchasing an electronic ticket, you will receive a 14-digit code which will need to be entered into your account on the website in order to get a printed version.
Important! If the train will be departing from the territory of Uzbekistan, you must print the ticket, as it will be required for entry and check-in at the train station.
Purchasing through a Travel Agency
For those who cannot personally go to the ticket office, do not have a local credit card for online purchasing or who simply do not want to deal with the hassle of buying Uzbekistan train tickets yourself, purchasing through a travel agency is the simplest option. Although you will pay a modest commission, the tickets can be purchased quickly and with minimal inconvenience to you.
OrexCA provides assistance for Uzbekistan train ticket purchases. Our concierge services include:
ticket delivery to a specified address in Uzbekistan (for Tashkent deliveries, order must be placed 3 days in advance; for other cities, 6 days)
payment of the VAT tax, required for all ticket purchases
a map/guidebook for Uzbekistan
information and additional support as needed.
How to read information on the ticket: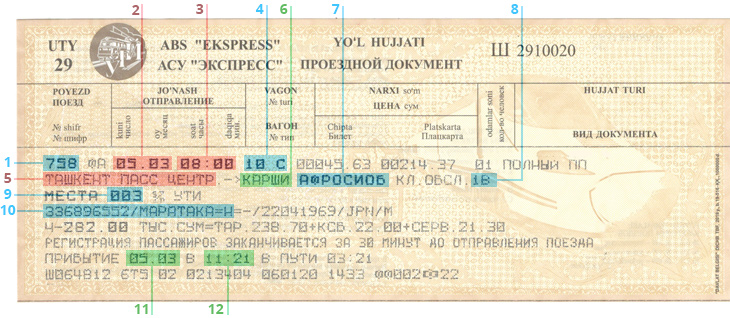 1. Train number
2. Departure date
3. Departure time
4. Wagon number
5. Departure point *
6. Destination
7. Type of train
8. Class of service **
9. Passenger seat number
10. Passport data of the passenger
11. Arrival date
12. Arrival time
*Important! There are two stations in Tashkent, which are marked on the ticket as SOUTH (ЮЖНЫЙ) and PASSENGER CENTRAL (ПАСС ЦЕНТР). When departing from Tashkent, check the ticket carefully to ensure you show up at the correct station.
** VIP - 1B; Business class - 1C; Economy class - 2E or 2B; SV - 1Y; Coupe - 2K; Sitting-only seat - 3П
How much luggage am I allowed to take on the train?
Each passenger is permitted to carry up to 36 kg of hand luggage at no extra charge. If your luggage weighs 37-50 kg, you may carry it on for an additional charge per kilo. Luggage beyond a total weight of 50 kg is not officially permitted on the train.
What are the discounts and benefits?
There are a number of benefits and discounts offered on Uzbekistan's passenger trains, but unfortunately for tourists most of them are only valid for citizens of Uzbekistan.
Discounts are available for foreign citizens traveling with children, the amount of which depends on the age and number of children:
One child under 5 years old – may travel free of charge without a separate seat (i.e. shares bed or seat of the parent)
Two or more children under 5 years old - the first child rides free of charge without a separate seat, and a 50% discount is given for the second child's ticket for a separate seat.
Children from 5 to 10 years old - 50% discount on the ticket price of a separate seat.
Children over 10 years old - full ticket price.
Note: children under 16 years old are not allowed to travel unless accompanied by an adult.
If you have any questions or need more detailed information about benefits, discounts or purchasing tickets, we recommend that you refer to the official website of Uzbekistan Temir Yo'llari.