Sioni Cathedral, Tbilisi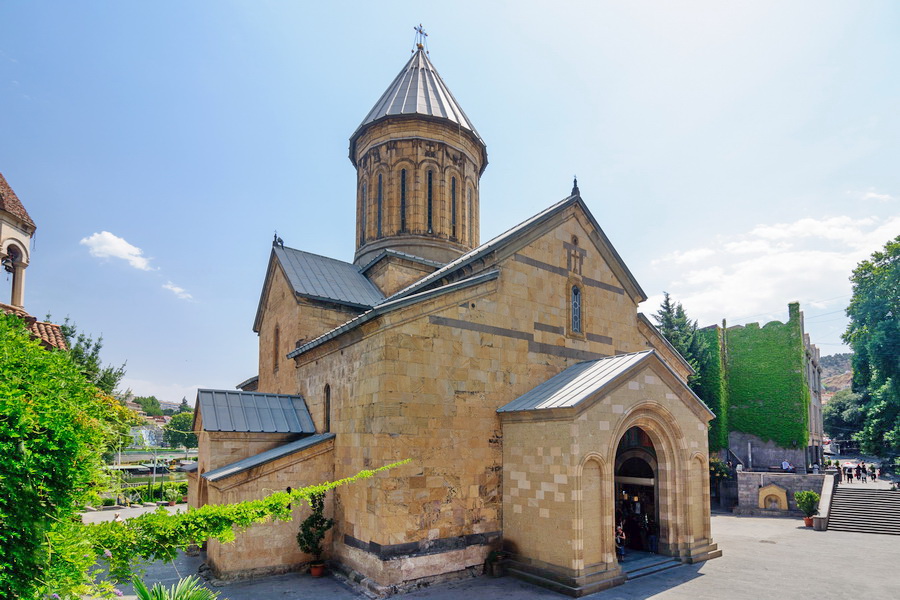 Those who trust in the Lord are like Mount Zion, which cannot be moved, but abides forever.
Psalm 125:1
Sioni Cathedral in Tbilisi, Georgia is located near the Mtkvari River in Old Tbilisi. Its name is derived from Zion, the holy mountain in Jerusalem whose name means "sunny" in Hebrew.
Sioni Cathedral is one of the most sacred places in Georgia's capital. The cross of Saint Nino, who first brought Christianity to the region, is preserved here, and a replica remains on public display. A holy stone imported from Jerusalem by St. David of Gareji adds further mystique to the church.
In the past it was common practice for the Catholicos-Patriarch, head of the Georgian Orthodox Church, to bless the Georgian army from Sioni Cathedral before they marched into battle. When outward shows of religion were banned during Soviet times, the only functioning church in the whole of Tbilisi was Sioni, where people would sneak away to pray unnoticed. Up until 2004, Sioni also served as the residence of the head of the Georgian Orthodox Church.
Construction on the cathedral began during the 6th-century reign of Guaram Kurapalat and was completed a few decades later in the mid- 7th century. As time wore on, multiple invasions and earthquakes left the church severely damaged. Inscriptions carved on its walls provide us with insights into the various phases of its restoration and testify to the imprint of centuries embedded within its appearance: The cathedral's current layout dates to the 12th-13th centuries, the dome to 1710 and the renovated exterior to the 19th century.
Skilled 19th and 20th-century painters perfected the sanctuary, whose delightfully colourful and detailed frescoes depict saints, angelic beings and Christ Himself through royal tones and delicate strokes that leave many speechless.
Sioni Cathedral in Tbilisi carries moving stories of bravery and faith within its walls. Despite vying with Holy Trinity Cathedral of Tbilisi, Anchiskhati Basilica and other notable churches in the area, Sioni remains one of the city's most-visited sites and a highlight for visitors to the country of Georgia. The church borders the famous Jean Chardin Street and can be reached on foot in 10-15 minutes from Old Tbilisi.