Narikala Fortress, Tbilisi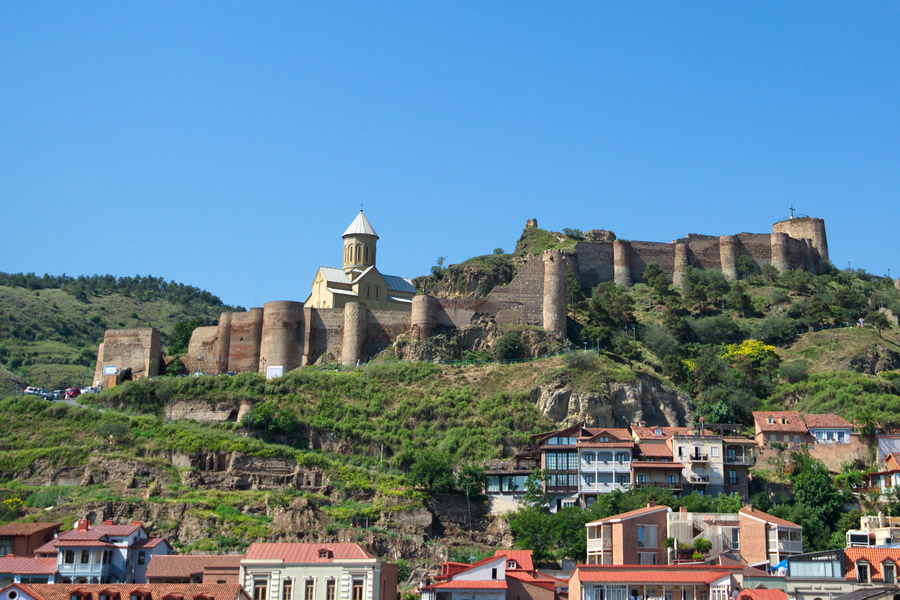 Narikala Fortress is one of the oldest fortresses in the country of Georgia and a main city symbol of Tbilisi. It is known by various names, including Dedatsikhe (Mother's Fortress), Shuri Fortress (Fortress of Envy) and Kala (Fortress). The name Narikala is probably derived from the Persian term Narin Qala, which means "Small Fortress", a term first used by the Mongols during their invasion in the 13th century.
Although constructed in the 4th century AD, scholars suggest that the hill was inhabited as far back as the 12th century BC. Originally Narikala Fortress, with its strong walls and watchful towers, served a strategic defensive function. It was damaged and rebuilt many times due to invasions and earthquakes: The Persian Army destroyed it in the 5th century and the Byzantines in the 7th century. Later in the 7th century, Narikala fell under the control of the Arabs and was finally liberated by King David the Builder in 1122. The fortress was later invaded by the Mongols and Tamerlane's army. It was again rebuilt in the 17th century, but was nearly demolished again during the invasion of Agha-Mohammad Khan in 1795 and again in the earthquake of 1827.
Nowadays, only the northeastern section has retained its pre-feudal buildings, some of which date back to the 5th century. Inside the fortress, archaeological excavations uncovered part of a domed church which replicates nearby Metekhi Church. St. Nikolas Church was fully restored at the end of the 20th century, while the most recent large-scale reconstruction efforts were carried out in 2016-2017, at which time the citadel was fortified and its damaged exterior restored.
Today, Narikala Fortress is one of the most visited places in Georgia's capital, admired by locals and tourists alike. With its structure and central location atop a hill, Narikala cannot help but attract attention. The fortress outline is one of the most popular, distinctive sights in Georgia and can be found on the cover of countless tourist guidebooks.
To reach Narikala Fortress, take a cable car from Rike Park. The cable cars are located near the Bridge of Peace and provide a relaxing, scenic trip up the hill. Alternatively, it can be reached by a short drive or a walk through some of Tbilisi's oldest neighborhoods, home to the National Botanical Garden, Jumah Mosque and the Tbilisi Sulfur Baths. From Narikala Fortress you can enjoy a great view of the Kartlis Deda statue and a panoramic scene of Tbilisi.