Metekhi Church, Tbilisi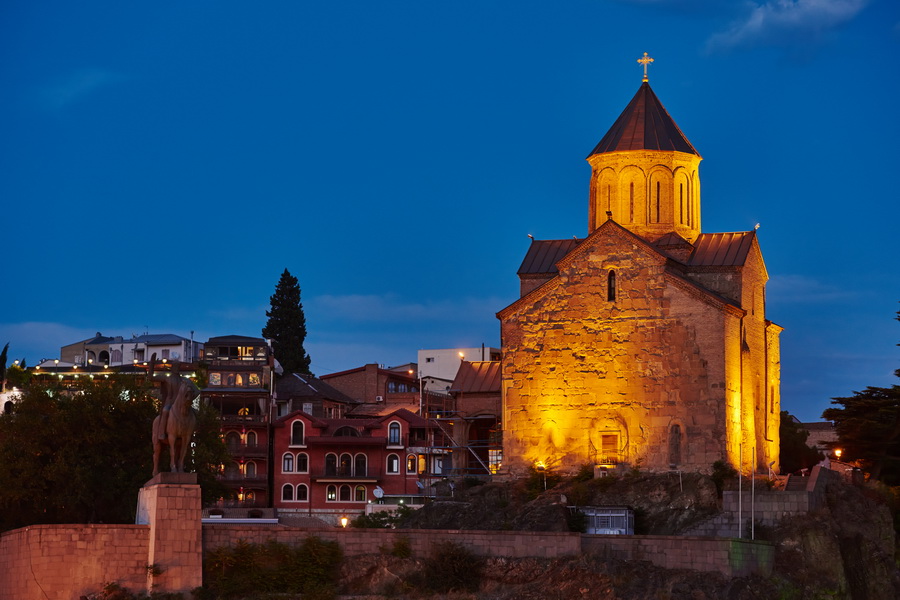 Metekhi Church in Tbilisi, Georgia is located on the left bank of the Kura River in one of the oldest districts of the capital.
In old Georgian, the word "metekhi" means "territory around a palace". Locals believe that King Vakhtang Gorgasali, the 5th-century founder of the city, built a church and a castle, which also served as the king's residence, on the site.
In many ways, the chapel's past reflects the history of Tbilisi as a whole. In 1235, Mongols destroyed the church and palace. The palace was rebuilt in the middle of the 13th century and the church reconstructed by King Demetrius II at the end of the same century. Demetrius II also established a monastery where the famous theologian Nikoloz Cholokashvili (Nikifore Irbakhi) studied in the 15th century.
Over the years, the architecture of Metekhi Church has undergone numerous changes. In 1748, King Erekle II rebuilt the church and repaired its dome. In 1819, a two-story building was added to the churchyard which served as a prison until 1934. Further restoration works were undertaken in the 19th and 21st centuries.
The church was not allowed to operate as a religious building during Soviet rule in the 20th century. In 1979 the State Youth Drama Theater, otherwise known as "Metekhi Theater", operated out of the chapel, which was later turned into an artists' workshop. After the collapse of the Soviet Union, Metekhi was reopened for services and religious functions, and today it is one of the most well-known churches in Tbilisi.
Metekhi Church is also the burial place of St. Shushanik the Martyr (5th century) and the place of martyrdom of St. Abo of Tiflis (8th century). It is a central-domed church connected to the historic neighborhood of Abanotubani by Metekhi Bridge, which was added in 1951. In the yard of Metekhi Church, a statue of King Vakhtang Gorgasali overlooks the city as he guards its peace.