Kashveti Church, Tbilisi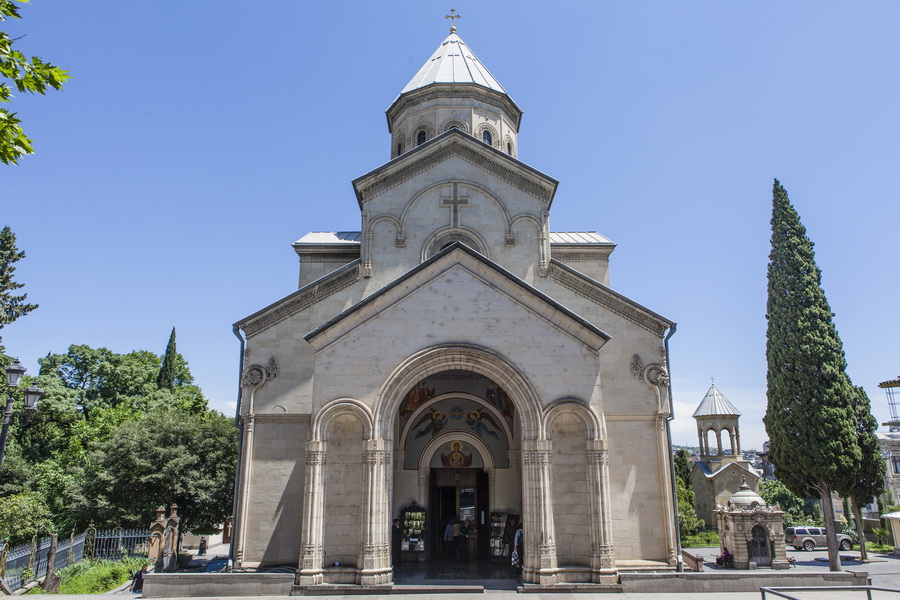 Kashveti Church in Tbilisi (1910) is located on Shota Rustaveli Avenue, a major thoroughfare in the capital of Georgia. Behind the simple façade of this church is a memorable legend which over time has come to mingle with history itself.
David Garejeli was one of thirteen Assyrian fathers who came to Georgia in the 6th century to preach Christianity. According to legend, a woman who worshipped fire accused David of impregnating her, and in order to prove his innocence, David asked the Lord to perform a miracle. He predicted that the woman would give birth to a stone as evidence of her deceit. His prediction came true, and when the woman gave birth to the stone David proceeded to build a small chapel. The name given to the church, Kashveti, was derived from two Georgian words: kva (stone) and shva (gave birth).
In 1753 the old chapel was replaced by a brick church which was financed by Givi Amilakhvari, a Georgian duke and political activist. By the end of the 19th century Kashveti Church had suffered severe damage due to an active Russian military base located to its south and to the construction of a public garden nearby. In the spring of 1901, the decision was made to demolish the old church and build a new one in honor of St. George, patron saint of Georgia. Construction of a cross-domed, three-nave building modeled after Samtavisi Church in Shida Kartli began in November 1904. The project took six years to complete and was a community affair: the church was designed by architect L.P. Bielefeld, the exterior created by a man by the name of Neofate Agladze and construction funded by numerous Georgian public figures. In 1947, the interior of the church was decorated by famous Georgian artist Lado Gudiashvili.
Today, services are held daily in Kashveti Church in Tbilisi and the chapel remains open for tourists and visitors.