Georgian Parliament Building, Tbilisi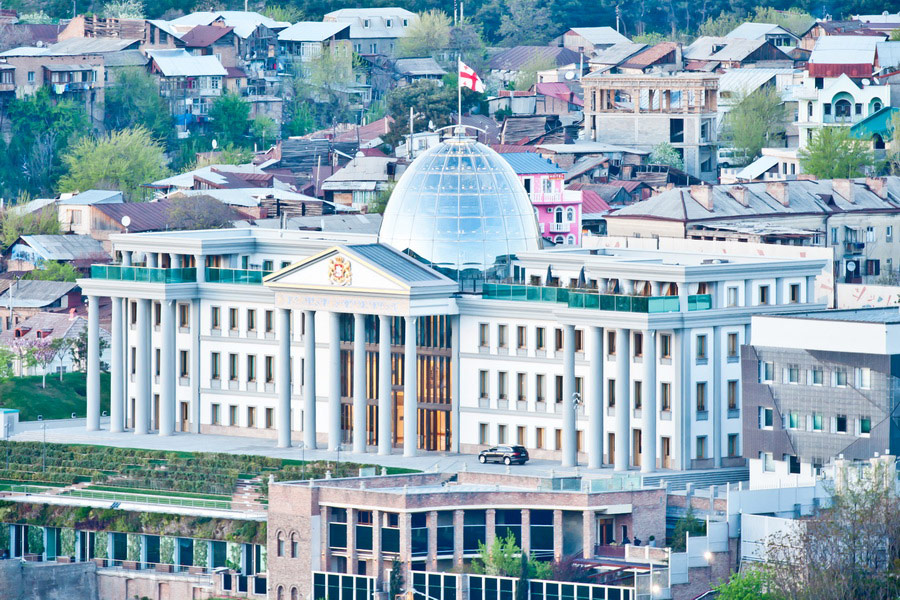 The Georgian Parliament Building in Tbilisi, previously known as the Government House of the Georgian SSR (Georgian Soviet Socialist Republic), has long been the epicentre of critical political events in the country.
Toward the end of the 19th century, St. Aleksandr Nevsky Military Cathedral was constructed on the site of the current parliament building, only to be destroyed in 1930 when the Soviets mounted their attack on religion. In its stead, the Governmental House of the Georgian SSR was built. Construction started in 1933 and lasted a full twenty years, until 1953.
The Georgian Governmental House was built in two stages. Initially, the rear (B building) was built, followed by the main anterior section (A building), where the Supreme Council and the Council of Ministers were located. Government House of the Georgian SSR was included in the top ten architectural monuments of the former Soviet Union and remains distinguished for its imposing presence and architectural style reflective of Stalin-era governmental buildings.
Several historical events in Georgia are connected with Rustaveli Avenue and the Parliament Building. In 1956, many Georgians unhappy with the de-Stalinization process gathered for a rally on Rustaveli Avenue. The demonstration was suppressed by Communist troops and resulted in 22 deaths. Another anti-governmental demonstration on April 9th, 1989 ended tragically when the protest was forcibly dispersed by the army and 21 people were killed. A monument in front of Georgian Parliament Building is dedicated to the events of that day, and today April 9th is a day of remembrance and an official non-working holiday in the country of Georgia.
During the Georgian Civil War of 1991-1992, which also claimed the lives of many citizens, the parliament building was swept up in the conflict on more than one occasion. In 2003 the Rose Revolution, which started and ended peacefully at Georgian Parliament Building, drastically changed the course of modern Georgian history. Gavrilov's Night, a turbulent anti-Russian protest, also took place here on June 21, 2019.
In 2020, the square in front of Georgia's parliament building in Tbilisi was renovated and the water supply system updated. Old tiles were replaced with natural stones, new shrubbery was planted and decorative lamps and branches were installed.
The Georgian Parliament Building in Tbilisi is located on Rustaveli Avenue, opposite Kashveti Church and between First Public School and the Youth Palace. Having witnessed the unfolding of such significant national changes, it remains one of the must-see landmarks in Tbilisi for anyone with an appreciation for Georgian history.