National Botanical Garden of Georgia, Tbilisi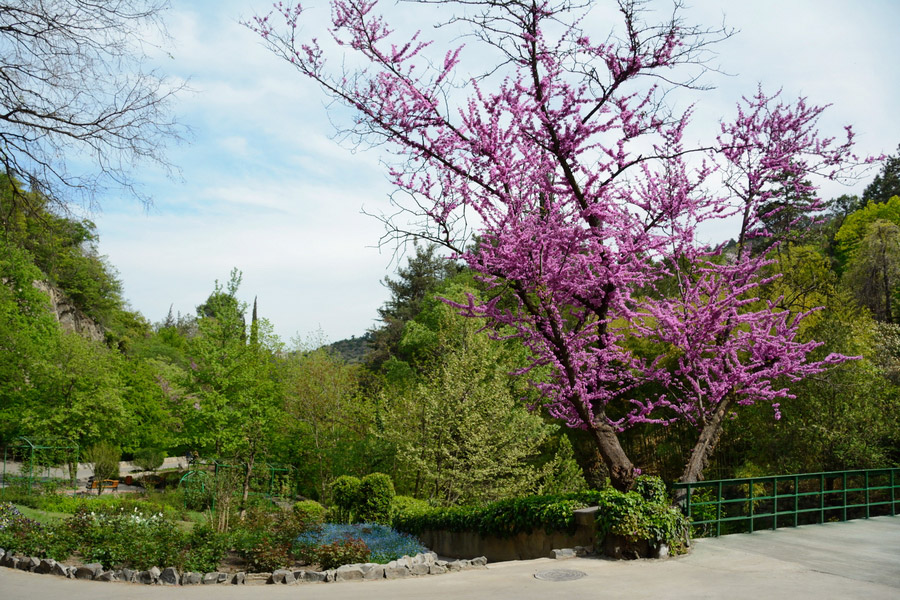 The National Botanical Garden of Georgia (formerly Tbilisi Botanical Garden) is located in the heart of Tbilisi. It stretches across 128 hectares of land and is home to a rich collection of plants from different regions of the country of Georgia and the world, including a tropical greenhouse and several endangered flora. There are more than 3500 species of plants in the park, making it a true oasis in the metropolitan capital.
The park is perhaps the oldest botanical garden in Georgia, for its history actually began in 1636. At that time there were three gardens on the territory which belonged to the royal court. They were destroyed after the invasion of Agha Mohammad Khan in 1675 and reopened as the National Botanical Garden of Georgia in 1845, when Georgia was annexed by the Russian Empire. The garden expanded significantly during the 19th and 20th centuries. From 1932 to 1958, the territory of a former Muslim cemetery, located on the right bank of Tsavkisistskali River, was added to the park. In the 21th century a Japanese garden, adventure space and a bicycle lane were also added, making the park an even more popular destination for sightseeing in Tbilisi.
Gerogia's botanical garden has several bridges which span the Tsavkisistskali River, including an arched bridge built in 1914 and Queen Tamar Bridge, built in the 12th-13th centuries. At that time, the territory was little more than a forest, and the bridge was built for easier access to Narikala Fortress. Despite being damaged and reconstructed several times, the bridge's original style has been preserved and is now accompanied by a beautiful waterfall below.
The garden has two entrances, one from Botanic Street at the foot of Narikala Fortress and the second one via historic Abanotubani. From the garden, it is only a short walk to both the fortress and Abanotubani. National Botanical Garden of Georgia attracts many visitors year round. Walking, cycling and wall climbing can all be enjoyed on its premises, but don't forget to take time to simply relax and enjoy the scenery, for it is an ideal place to escape both the city and the digital world.