Sulfur Baths in Tbilisi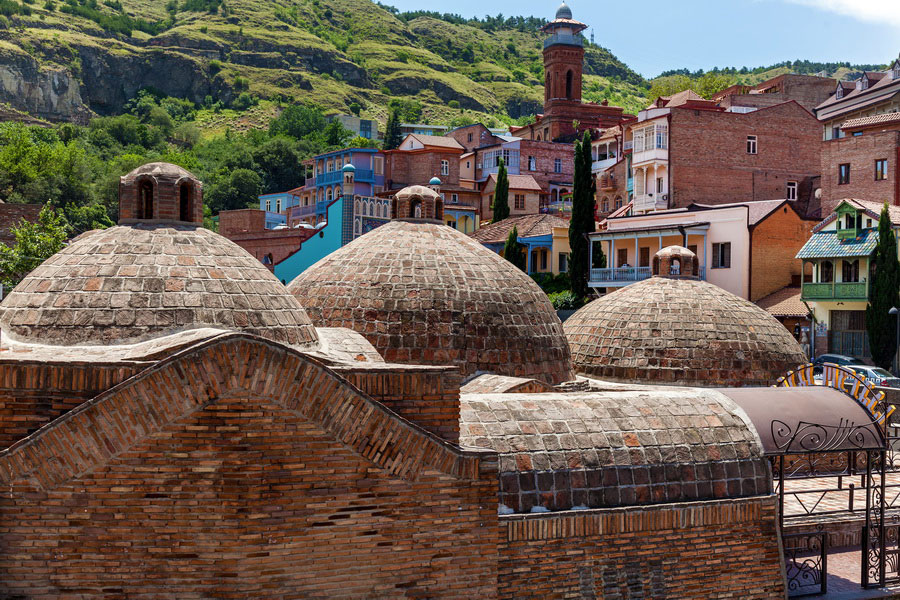 Legend has it that in the 5th century, Georgian king Vakhtang Gorgasali went for a hunt, during which his falcon chased down a pheasant. In the course of their mid-air struggle, both falcon and his prey fell into a hot spring and died. The king, astonished by the natural temperature of the water, built a city nearby. The new settlement was given the name Tbilisi, meaning 'warm location'.
Sulfur baths in Tbilisi are centered in one of the oldest districts of the city, Abanotubani. If there is any grain of truth in the story of Vakhtang's hunt, it must have been here that the king's falcon and his prey met their fate, for the water that comes from these springs is rich in sulfur and reaches a temperature of 40-50 degrees Celsius. These hot springs are the source of water for several bathhouses located in the shadow of Narikala Fortress.
The name Abanotubani means "bathhouse district" and accurately reflects the long relationship between this neighborhood and the sulfur springs. Archaeological research indicates that people were already using bathhouses here by the 3rd century. Throughout the ages the facilities were repeatedly destroyed, rebuilt and renamed. In 1795 the Iranian ruler Agha Mohammad Khan captured Tbilisi and left it in ruins. All sulfur bathhouses in the Abanotubani district were destroyed and only later rebuilt.
Abanotubani bathhouses have always been the center of Georgian social life. At the peak of their popularity, there were over sixty bathhouses in Tbilisi. People would gather here to bathe, meet friends, rest, conduct business and even arrange weddings. Bathhouses used to work around the clock, and admission fees often covered unlimited access to the facility. Georgian bathhouses have been appreciated by the likes of such men as Alexander Duma and Alexander Pushkin, the latter of whom described the baths as nothing less than 'luxurious'.
Today, Abanotubani sulfur bathhouses remain one of the main highlights of Tbilisi. Each bathhouse differs in its architecture and type of services offered. Some of them are built in the traditional Persian style - low brick buildings half submerged into the ground, with only their dome-like roofs visible from the street. Others have more spectacular entrances resembling richly decorated mosques.
Sulfur baths in Tbilisi are an affordable option for tourists that provide genuine integration with the Georgian lifestyle, so long as you're comfortable with being naked and sharing a small bathing space with strangers! Men and women use different sections, so if you are in a mixed group you will have to separate. More luxurious bathhouses offer private rooms to use alone or with your family and friends and are a good solution for couples who wish to stay together. Most bathhouses also offer a variety of massages and spa treatments for an additional fee. One of the most traditional treatments, known as kisa, combines massage and peeling. Many consider it to be a highly revitalizing experience.
What better way to relax on your first day in Georgia, following a long cross-continental flight, than by visiting one of the sulfur baths in Tbilisi? Benefits include healthier skin, cleansing of pores and healing from a variety of ailments including eczema and digestive issues. It also makes a fantastic final destination on a city tour. The bathhouse district lies less than ten minutes away from Narikala Fortress. From the fortress, head down the hill towards Tbilisi Central Mosque. The first bathhouse lies less than two hundred meters away from the mosque.
This is also a great district of Tbilisi to explore on foot — take a five-minute walk east of the bathhouses to Meidan Bazaar. From there, walk another two minutes to reach Metekhi Church, or head northwest to Betlemi Street to explore the old Jewish quarter, including the Tbilisi Synagogue. A short walk will take you to Upper Betlemi Church, which offers a fantastic view of the Kartlis Deda Monument.
Whichever option you choose, be sure to get in touch with us for bathhouse recommendations. We know these facilities in-depth and will be happy to help you choose one that will suit your needs and provide you with a clean, authentic and enjoyable Georgian experience!