Anchiskhati Basilica, Tbilisi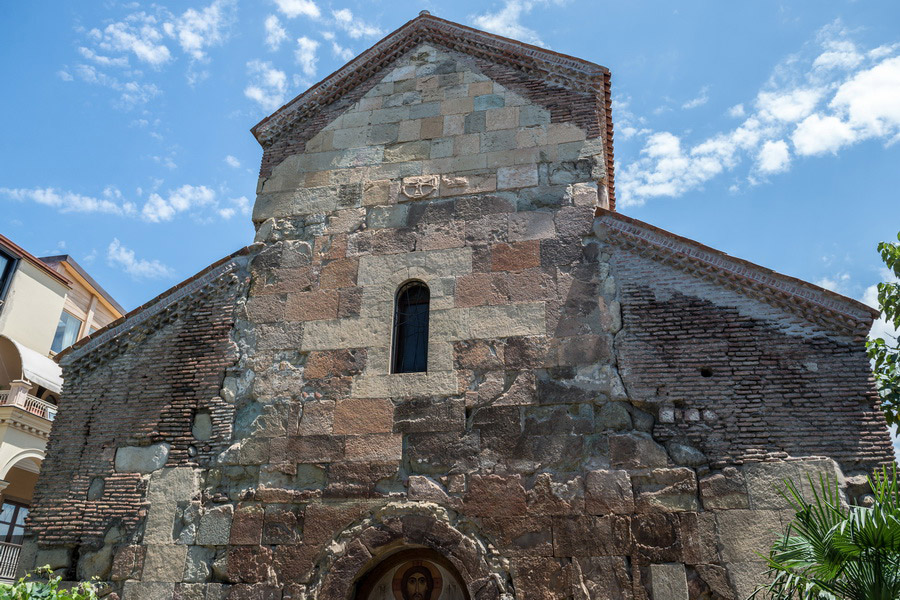 Anchiskhati Basilica, located in the heart of Old Tbilisi, is the oldest surviving church in all of Georgia, built in the 6th century by Dachi of Iberia, King of Kartli. Beginning in the 7th century, Anchiskhati functioned as a seminary and educational center where children received theological training. Anchiskhati was the only church in Tbilisi whose bells were never silenced, even during 400 years of Arab rule, and it thus began to be referred to as "Church of the Bell".
Anchiskhati is one of the world's oldest three-nave basilicas, regarded as the oldest style of church architecture. It was severely damaged during a Byzantine invasion in the 7th century, only to be rebuilt shortly thereafter. This pattern of invasion, destruction and reconstruction was repeated on several occasions, and over time its features were drastically changed, particularly during restoration work carried out in the 17th century.
Until the 17th century, the Georgian Orthodox Church was known as Church of the Virgin Mary. Its present name is a reference to the Miraculous Icon of the Christ, a hot wax image believed by Orthodox followers to contain an original imprint of the face of Christ that possesses healing powers. The icon was originally kept at a Georgian monastery in Klarjeti in modern-day Turkey. It was transferred to other locales over the centuries until 1664, when it was brought to Church of the Virgin Mary in Tbilisi. In honor of the arrival of the revered icon, the church was renamed Anchiskhati (khati means icon in Georgian). Today, the anchiskhati icon is preserved in the Golden Fund of the Georgian Art Museum, yet the church has retained its medieval title.
Every year on August 29, a special holiday called Anchiskhatoba is celebrated in Anchiskhati Basilica. The special observance brings many parishioners together in one of the most sacred and oldest churches in the country of Georgia.