Fann Mountains, Tajikistan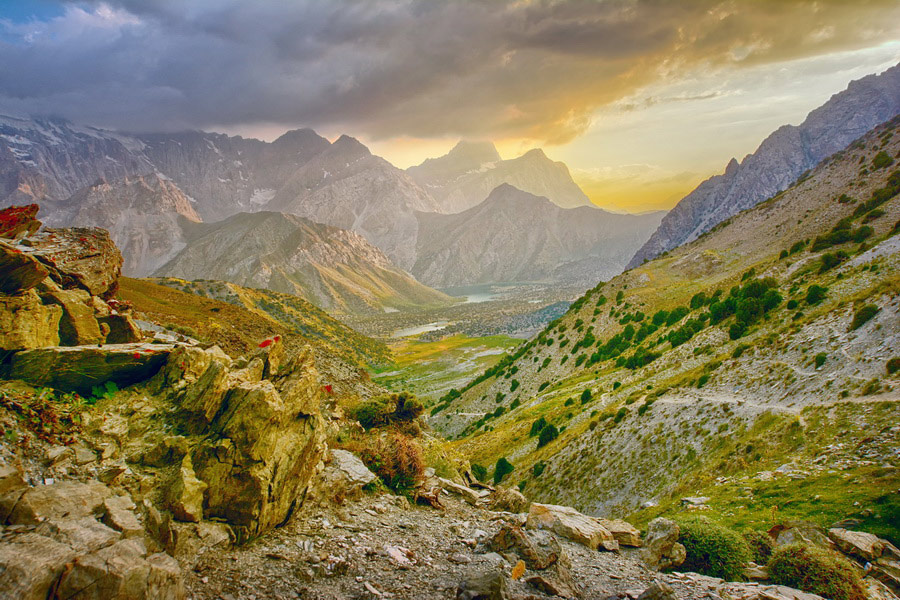 Mountains of Tajikistan. Passes and Mountains of Tajikistan regions
In the northwestern corner of Tajikistan, along the border with Uzbekistan, lay the rugged and beautiful Fann Mountains, a branch of the Western Pamir-Alay Range. They divide the northern territory of the country, in the Fergana Valley, from Dushanbe and the south. It is a compact range, with around 100 stunning peaks, many over 5,000m, and renowned alpine lakes. Famed among nature lovers and mountaineers, these mountains nonetheless see very few visitors, and their natural beauty and cultural treasures have remained virtually unchanged to this day.
Access is easiest from Penjikent in the northwest or Dushanbe in the south, across high, unforgettable passes with breathtaking views. Ancient Tajik mountain villages line these routes, whose faithful residents dress traditionally and follow the ways of their ancestors. Authentic "chaikhanas" sit perched over roaring mountain streams, offering "osh" (plov) and tea in Central Asian style, and roadside springs are crowded with locals gathering sparkling glacial water. Herds of sheep and cattle wander the mountainsides and roads, often driven by young boys riding donkeys. Local people are some of the kindest in the world, always ready to welcome the visitor with a warm smile and polite bow; prepare to be invited for tea! If in need of a place to stay, Tajik people never hesitate to open their home to the traveler. Aside from the few vehicles on the main roads, there is little sign of modern life to be found.
The Fann Mountains are full of rocky, forbidding summits, the biggest of which is Chimtarga peak (5,489m). Other peaks include Bodkhona (5,138m), Chapdara (5,050m), Big Hansa (5,306m), Little Hansa (5,031m), Zamok (Castle, 5,070m), Mirali (5,132m), and Energy (5,120m). Glittering mountain lakes flanked by sheer cliffs and inaccessible peaks add to the supernatural beauty of the region. Sparse juniper and birch forests dot the hillsides and flank the azure blue lakes. Iskander Kul, the largest lake in the Fanns, lies 25km off the main north-south route through the mountains, near several picturesque villages. It is the single most famous site in the area, and a popular stop along the road to Dushanbe. Another famous sight is the chain of "seven lakes" in the Mogisendarya River valley directly to the south of Penjikent, where homestays in a series of small villages may be offered.
The only road from Dushanbe north across the Fanns is currently undergoing a major reconstruction by Chinese companies. Several enormous tunnels of 5 km or more are being carved out of the bases of several ridges, and will replace the most treacherous and difficult passes. The passes are an exciting experience in themselves, winding steeply up to 3,600 meters on rough dirt roads; there are places where one can look down and see the wrecks of dozens of vehicles (mostly from winter driving). Trip between Dushanbe and Penjikent, and as well from Dushanbe to Khujand takes 4-6 hours