Cape Svetly
Kyrgyzstan mountain ranges and passes. Kyrgyzstan recreation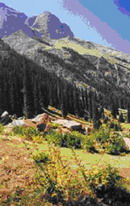 An interesting site for a short side trip might include a visit to the little hamlet of Svetly Mys (Bright Cape), tucked away near the shores of Lake Issyk Kul, just South of the village of Belovodsk, about 50km from Karakol.
This is reputedly the burial place of the Apostle, Saint Matthew. Having been a tax collector, he was called to be a disciple of Jesus. According to tradition, he later wrote the Gospel of Saint Matthew for his fellow countrymen in Palestine, though around the time of the persecution of Herod Agrippa in A.D. 42, he fled to distant lands. Of his subsequent life and career we have only inaccurate or legendary information.
Ancient writers are far from unanimous on his travels, but almost all mention the land of Ethiopia (South of the Caspian Sea, not the one in Africa!); some mention Persia, the kingdom of the Parthians; Macedonia; and Syria. There is little information on his death and at least one author maintains that he did not die as a martyr - although others disagree. Is it possible that he made it as far into Central Asia as Issyk Kul - and died here?
Whether he did or not, this site has attracted pilgrims for centuries, and it is thought that various religious communities (Nestorian, Armenian, Orthodox) have been been based here. In 1888, the Tsar of Russia ordered that an Orthodox monastery be founded here - some of the wooden buildings still remain - and the roads were laid out in the form of an Orthodox cross. During the Central Asian uprising of 1916, the monastery was attacked and most of the monks were killed.
One of the icons of the Virgin Mary was said to have shed tears and blood - and was later placed in the wooden cathederal in Karakol, where it can still be seen. Two monks survived; one fled to Almaty and the other moved down the road to Ananyevo; both were later canonized as saints.