Barskoon valley
Kyrgyzstan mountain ranges and passes. Kyrgyzstan recreation
Barskoon and Tamga are twin Kyrgyz and Russian villages at the mouth of the Barskoon valley - which has an impressive waterfall and is a very popular base for trekking and horseriding.
The 11th century scholar, Mahumud al-Kashgari (also known as Barskhani) was a native of this area. He is best known as the author of the first Turkic language comparative dictionary, which he wrote whilst living in Baghdad in 1072-1074. His map of the then known world has Barskoon at the center of the world. His tomb is South of Kashgar - on the road to Pakistan.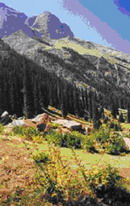 The road from Barskoon which passes up the Barskoon valley, (the A364) used to be one of the routes of the Silk Road, passing over the Bedel Pass (4284 m) into China. It is now the main road leading to the Kumtor Gold mine - hence it is well maintained and there is a reasonable amount of traffic - including trucks making their way up to the mine and back. In the Spring of 2000 - a lorry carrying cyanide used in the gold refining process was involved in an accident - leaving the road and crashing into a stream - polluting the waters and decimating the tourist industry around Lake Issyk Kul as many CIS travelers cancelled their planned holidays.
There are several interesting sights along the road - including a Soviet truck mounted on a pedestal and a bust of Yuri Gagarin, who holidayed on the South shore of Issyk Kul after his historic first manned space flight.
In the mountains to the East is a region known as Sytyr - an "alpine cold desert". In Soviet times the road turned East along the upper Naryn River and looped round over the Yshtyk Pass (3689 m) to Ak Shyrak, Enilchek and eventually back to the city of Karakol. Unfortunately, some of the bridges are now down and the road, (never an easy route), is no longer passable by car, though routes to the west to the towns of Sari-Bulak and Naryn are passible by 4WD vehicles, bikes, and horses. Barskoon is the home of Shepherds' Way Trekking. They have asmall guesthouse, and can arrange services for those interested in exploring the Barskoon valley - including horse trekking.