Statue of David of Sassoun, Yerevan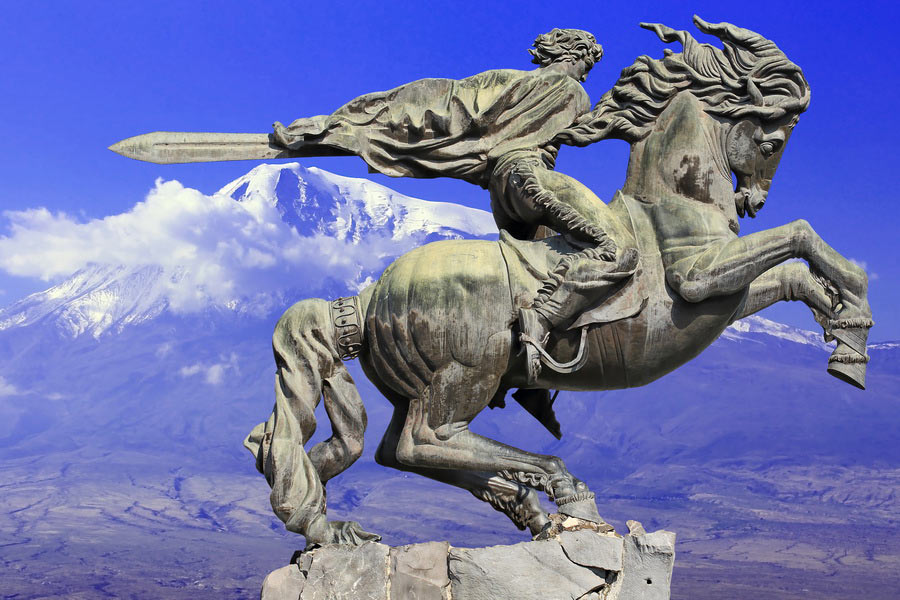 The Statue of David of Sassoun in Yerevan depicts the hero of the Armenian folk epic "Daredevils of Sassoun", yet its significance reaches beyond the fable to symbolize the struggle of the Armenians for independence.
Sculptor Yervand Kochar and architect Mikael Mazmanyan created the monument, which is also known as David of Sasun or Sasuntsi Davit Statue, with award-winning dancer Vanush Khanamiryan serving as a model.
The hero is depicted confidently riding his horse, Kurkik Jalali, who is shown with his mane fluttering in the wind as he rears upward. Under his front hooves is a bowl, posed as though ready to tip over the edge of the huge basalt stone on which the statue is mounted. The bowl symbolizes the limits of long-suffering of the Armenian people.
The monument of David of Sassoun stands at the central Yerevan Railway Station and reaches 12.5 meters in height. It is surrounded by a small artificial pool which allows the statue to be viewed from a short distance away. The monument evokes a range of emotions in viewers, for every feature on David's face, from his sternly drawn cheekbones to his furrowed brow, attest to the hero's determination and steadfastness. With his right hand he is reaching for the hilt of his sword, as though intending to draw it from its scabbard and strike the enemy.
A range of ideological concepts are embedded in the statue of the hero of Sassoun. Armenia's deep-seated and ongoing struggle against foreign oppressors, its fate as a nation and its spirited perseverance are all personified in the monument. As such, the Statue of David of Sassoun in Yerevan remains an important city symbol and a noteworthy stop on your tour of Armenia's capital.