Conditions: Members carry out and choose tactics for ascents themselves, and bring all their own gear.
Service: All transfers from Bishkek to Base camp and back, accommodation in hotels, radio communications, full board, all legal formalities.
Note: All necessary food (bread, butter, sugar, etc) is provided by our organization, however it is advisable to bring special high-altitude food.
Season: 20 June - 30 August.
Size of group: Unlimited
For additional payment: Helicopter flight from Lake Issyk-Kul to Maida-Adyr, helicopter sightseeing flight over the peaks, helicopter transfer to route of ascent, preparation of route by guides, accompaniment by guides, helicopter flight to lower camp for rest and other services.
The grand marble pyramid of Khan-Tengri is soars above the upper reaches of the Southern Inylchek glacier. It is the highest and most beautiful peak in the Tengri-Tag range. There are dozens of incredibly difficult routes to the peak. In this program we offer an ascent of Khan-Tengri along the most popular route - the most accessible and safe ascent to the peak along the western rib starting from Semenovsky glacier.
Arrival to Base Camp and tactic of ascent
- Arrival in Bishkek.
- Transfer from Bishkek to Karakol (400km), on the shores of Lake Issyk-Kul.
- Transfer from Karakol over Chon-Ashu pass (3,822m) to Maida-Adyr staging camp (2,540m).
- Helicopter flight to Base Camp on the southern Inylchek glacier. Camp is situated near the slopes of Teglavy peak at 4,000m.
- Acclimatization to the route and set-up of high altitude camps. Ascent along the Southern Inylchek glacier to its confluence with Semenovsky glacier. Set-up and overnight in camp 1.
- Ascent along Semenovsky glacier to the western ridge of Khan-Tengri. Set-up and overnight in camp 2.
- Ascent along the western ridge to 6,300 - 6,400m. Return to camp 2. Overnight.
- Descent and return to Base Camp.
- Day of rest and preparation for ascent.
- Next two days - ascent to staging camp 2.
- From camp 2 - ascent to 6,300 - 6,400 m. and organization of camp 3. Most complicated part of ascent begins. Climb to 6,700 m. and set-up of camp 4. Overnight.
- From camp 4, summit of peak and return to camp 3.
- Descent along route of ascent to camp 2, camp 1.
- Return to Base Camp.
- Flight from Base Camp to Maida-Adyr staging camp and transfer by car to Bishkek.
The whole program from day of arrival to return takes 20 days, taking into account reserve days in case of bad weather.
Pobeda peak - Khan-Tengri regional description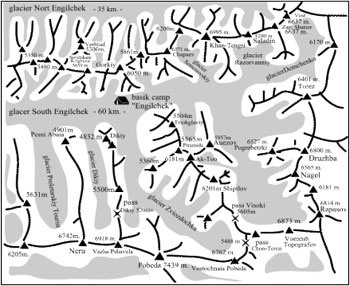 The Northern and Southern Inylchek glaciers are located in the highest part of Kyrgyzstan, which is called Muztag. This is a place of permafrost, great glaciers, and high peaks.
Four ranges form the Muztag region: the Sarydzhas, Tengry-Tag, Kokshaal-Too and Meridionalny. The Southern Inylchek is the second largest glacier among post-Soviet republics. Its length is 62km and its width is 3.5km, and is more than 200m. There are two 7,000m peaks - Pobeda (7,439m) and Khan-Tengri (7,000m), about 30 peaks of more than 6,000 m and also many peaks of 4,000 - 5,000m with differing levels of difficulty, from simple climbs to sheer walls at the upper reaches of this glacier; among them many have never been summited.
The famous Merzbacher Lake is situated at the confluence of the Northern and the Southern Inylchek glaciers. The lake is fascinating, as once in a year it completely empties into the Inylchek River, in the first half of April. The mechanism of this is still unexplained.
Climate conditions here are rather severe. Base Camp sits at 4,000m above sea level, and more then 50% of its territory is covered by glaciers. In daytime, temperatures in fine weather rise to +7/+150C. At night the temperature usually falls below 00C. Above 5,000m the climate is mostly Arctic. The weather in this region is extremely unstable, with frequent snowfall, which preclude ascent of Khan-Tengri and Pobeda in bad weather. Base Camp is situated on the side moraine of the Southern Inylchek glacier near the slopes of Treglvy peak. There is camping, kitchen, canteen and sauna in the camp, which make expedition life more comfortable.
Photos
No tour photos have been posted yet.
Reviews
No tour reviews have been posted yet.