Conditions: There are no technical difficulties on the trekking route, but participants should have good health and fitness, in order to cross 3500-4000m passes, and hike about 7-8 hours each day. Each participant should bring warm and water-resistant clothing, a coat, trekking boots, sleeping bag, gloves and sunglasses. There are no limits on the weight of personal gear.
Service: Full board and lodging in hotels and tent camps, guides, interpreters, transport during the entire route and full expedition services.
Season: July - August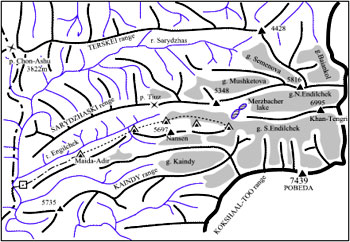 The region called Muztag (what means icy mountain) is formed by the knot of the Kokshaal-Too, Meridionalny, Sary-Djaz, Inylchek and Kaindy Mountain ranges. This region is difficult to access and for good reason it has long been a blank spot on the tourism map of Kyrgyzstan. There is a large variety of landscapes in these great ranges, including hanging glaciers, wide and deep mountain valleys, and raging rivers; and above all rise Peak Pobeda (7,439m) and Khan-Tengri (6,995m). This region is a paradise for those who love outdoor adventure!
Day 1. Arrival in Bishkek. Accommodation in mountain hotel "Kashka-Suu", situated 40km from Bishkek at the entry to Ala-Archa gorge.
Day 2. Transfer to Karakol (400km) Along the way, we will visit the "Pearl of Kyrgyzstan" - Lake Issyk-Kul. Hotel accommodation.
Day 3. Transfer through Sary-Dzjaz gorge to the frontier post at Ichkili-Tash (Tjuz river). Night in tents near frontier post.
Day 4. Hiking along the Tjuz river (25 km). This day is easy, with no large climbs, and the whole way follows the Tjuz river. Night in tents on a glade near a small crystal-clear stream.
Day 5. Hiking to the foot of Tjuz pass. At first, terrain is like previous day up to the fourth river junction (about 4 hours) with lunch on the way. Then we ford the Tjuz river and hike along opposite side of the valley (about 2 hours) to a massive rock, split in the middle. Night in tents.
Day 6. Ascent to Tjuz pass and descent to the Inylchek river valley. Ascent is not technically difficult; the most difficult part is across a talus slope of 20 degrees (about 3 hours). Lunch near top of pass. Descent on talus and grassy slopes into the Inylchek gorge (1.5-2 hours). Camp at Chon-Tash, which in Kyrgyz language means "big rock" and called as such because there is a large rock with dedications to mountaineers who have tragically died in these mountains. Night in tents.
Day 7. Hiking (15 km) along the right side of the Inylchek glacier to its confluence with the Putevodnyj glacier. The trip begins on the left side of the glacier, which we first will first need to cross. Beyond glacier, route lies along the slopes of the gorge. Night in tents.
Day 8. Hiking from Putevodny glacier to Merzbacher. There is only one difficult spot - crossing Putevodny glacier and its rivers, which usually takes about 1 hour. On the whole not a difficult day. Night in tents on a grassy meadow.
Day 9. Day of rest. Day hike to Merzbacher Lake. Merzbacher lake is situated on the opposite side of the glacier, so to reach the lake we must cross the glacier, which is 3-4km in width. Night in tents.
Day 10. Hiking to Komsomolskii glacier. The route is via a side moraine, in some parts on ice. Night in tents on the glacier.
Day 11. Hiking to base camp on the Zvezdochka glacier. Night in tents on a moraine.
Day 12. Day of rest. Night in tents.
Day 13. Flight by helicopter to Maida-Adyr and transfer to Karakol.
Day 14. Return to Bishkek and home.
Note: In the 15-day program, Day 7 is a day of rest. Aside from this, it is the same.
We hope you like the program and assure you that we are absolutely open to any suggestions to increase the range of our services for the entire satisfaction of our clients and are happy to meet your special requirements.
You can alter the duration of your tour and places of visits by adding one of the extensions. Our tour operator will work closely with you or your travel agent to carefully prepare an itinerary based on your stated interests.
Photos
No tour photos have been posted yet.
Reviews
No tour reviews have been posted yet.