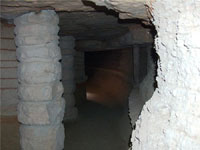 The most significant necropolises of Mangyshlak are Beket-Ata, Shopan-Ata, Shakpak-Ata, Seisem-Ata, Masat-Ata, Karaman-Ata, Koshkar-Ata, Sultan-Epe, Khanga-Baba, Ushtam, Akshora and others. The Karaman-Ata necropolis includes an underground mosque consisting of 4 big rooms.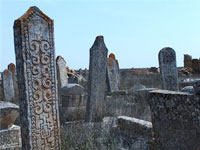 Daylight comes through an opening in the ceiling. It is cool inside the mosque, and small lizards sleep on the walls. There is an ancient cemetary on the territory of the necropolis.
The Program:
Duration: 1 day;
Season: April - October;
Size of group: 1 to 14.
Travel itinerary: Aktau - Bardybek village - Karaman-Ata necropolis - Aktau
Day 1. Transfer: Aktau - Bardybek village - Karaman-Ata necropolis (85 km., 2 hours). Departure from Aktau. Our route goes in the direction of Bayandy village. At the end of the city we pass a small "dead" lake, created to process the manufacturing wastes of the Mangyshlak metallurgical works.
We pass Bardybek tomb, situated 1km from the road. Soon we will see oil derricks and gas flames. There are pipes running along the road which carry water from the Volga River. We turn to the left, in the direction of Shetpe village, and will reach the Karaman-Ata necropolis very soon. Sightseeing, visit to the underground mosque and graveyard. Return to Aktau. On the way, we stop at a lake. Lunch at the lake. Transfer to Aktau.
We hope you like the program and assure you that we are absolutely open to any suggestions to increase the range of our services for the entire satisfaction of our clients and are happy to meet your special requirements.
You can alter the duration of your tour and places of visits by adding one of the extensions. Our tour operator will work closely with you or your travel agent to carefully prepare an itinerary based on your stated interests.
Photos
No tour photos have been posted yet.
Reviews
No tour reviews have been posted yet.