Duration: 1 day
Season: April-October
Group size: from 1 to 15 pax
Program
Transfer: Almaty - Kapchagay - Chengeldy village - mounds Besshatyr - (175 km, 3,5 hours).
Excursion to the mound Besshatyr.
Moving to singing Barkhan (45 km, 1,5 hours).
Excursion to the Singing Dunes.
Lunch.
Return to Almaty (220 km, 5 hours).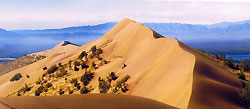 Description:
The Singing Sands, situated on the right bank on the Ili River. In dry weather this sand dune emits a sound like an organ playing. The Singing Sands make an unforgettable impression. The humming and vibration are caused by the movement of dry grains of sand, which combined with the dry air, energizes them, causing the vibration. Because of the surrounding favorable resonant conditions, powerful sound waves are produced which, bouncing off the solid ground, also cause the dune to vibrate. The sound can be heard from several kilometers away.
The dune does not "sing" in wet weather. There are two sandstone hills, big and little Kalkan, which are over 120 m high and 4 km long. Despite the Looseness of the sand and the strong winds, the singing dune does not move around the plain but has remained in the same place for millennia. Its southwestern slope is smooth while the opposite northeastern side has several ridges with gentle inclines. The dune has a sharp ridge with several protruding peaks, so it is actually possible to ski down it.
Nature lovers will find an unexpected paradise in the Altyn-Emel national park. The park covers 90 sq. km between the Ili River and the Ak-Tau Mountain range. It is mysterious, beautiful country with a long history and a unique natural environment. Now here you can find more amazing remains of the Sacae culture: ancient burial mounds and rock paintings of wild animals and hunting scenes.
The stunning Ak-tau (White Mountains) are like a museum of the earth's distant past. Fantastically-shaped natural sculptures rise from the bottom of an ancient sea in all the colors of the rainbow, from the pale blue "Lunar landscape" to the "red mountains". These mountains are 30 km long, 1.5-2 km deep - and 400 million years old. There is a rich variety of wildlife here, with large numbers of jeirans, steppe antelope, mountain goats and sheep, wolves and foxes.
Photos
No tour photos have been posted yet.
Reviews
No tour reviews have been posted yet.