Duration: 8-10 hours
Distance: 60 km
Tour departs: 09:00
Bus ride to the lake: 2 hours
Bus: Neoplan, Setra (50 pax)
Days: every weekend
Description:
Issyk Lake is sitiated in Issyk Canyon of Zailiyskiy Alatau, about 70 km on the east of Almaty. Geologists state that the lake appeared about 8-10 thousand years ago as a result of huge avalanche. Before 1963 Issyk Lake was a real pearl of Zailiyskiy Alatau mauntains. There was an infrastructure, which included roads, tourist centres, bus stations. Thousands people - Almaty citizens and tourists - were spending their holidays on the lakeside. Lake images were on post cards and tourist brochures…
On 7 July 1963 the lake was destroyed in several hours by the mudflow. For some time on the place of the lake was a small pond. By the beginning of 90th the reconstruction of a dam was finished, but the initial water level was not restored due to safety reasons.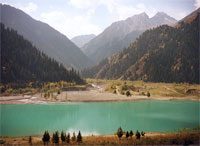 Nevertheless, the excursion will let you enjoy the nature of picturesque mountains of Issyk Canyon, see the level of water the lake had before and the traces of the mudflow all over the canyon and on the dam.
On the way you will be given general information about Zailiyskiy Alatau, Scythian barrows, Almaty satalite town - Issyk, Issyk Canyon. You will learn the details of Issyk disaster of 1963 and other intereating facts.
We believe you will love the excursion and will keep memories of beautiful and silent world of the mountains for a long time.
Excursion Flights on the Helicopter
The route: Peak Таlgar (without landing) - glacier "Bogatyr" (without landing) - Lake Kolsay (with landing) - the Charyn canyon (with landing) - Lake Issyk (with landing) - the Big Almaty Lake (with landing)
Start/return place: a platform of the Ministry of Emergency Measures on the river B.Almatinka, above the dam
Free time of parking: no more than 3 hours
We hope you like the program and assure you that we are absolutely open to any suggestions to increase the range of our services for the entire satisfaction of our clients and are happy to meet your special requirements.
You can alter the duration of your tour and places of visits by adding one of the extensions. Our tour operator will work closely with you or your travel agent to carefully prepare an itinerary based on your stated interests.
Photos
No tour photos have been posted yet.
Reviews
No tour reviews have been posted yet.