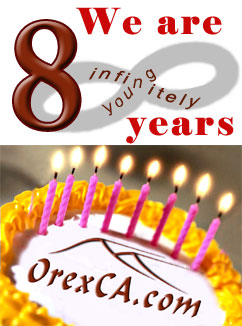 Yesterday it was a significant day for the team of OrexCA.com – 8 year anniversary of the Company – the event which has passed under the aegis of "infinitely young" slogan made by our creative group, placed in the infinity shape of eight, which has become an original symbol of our anniversary!
After all we are not that young organization, eight years is a considerable term, especially in such dynamical environment as online tourism, however we are young and what is always innovative is our approach to our business, and the system of continuous improvements which does not let us not only "reign in victory and peace", but challenges increasingly both the team and each member of it.
This year we have decided to celebrate our Birthday at our wonderful office – the place where each of us spends not just the most part of time but where we continuously work at improvement of working skills, quality of our services, the place where we create, adding value to each sale product, we create and we improve our online resources of www.OrexCA.com and OTPUSK.UZ.
In this important for development of our Company stage we were together, and together modeled our future, wishing each other new achievements, self-improvement and increase of standards that as a result is a basis for the further OrexCA.com runaway and implementation of our mission consisting of aspiration to be the fastest, the most convenient and the most accessible guidebook in the sphere of tourism across the Central Asia.